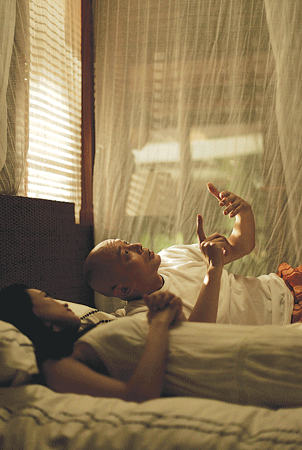 A scene of If You Are the One 2. [Global Times]
Ever since director Feng Xiaogang made The Dream Factory in 1997 with great success, the so called "Hesuipian" (films made for and screened during New Year season) in China, Feng has been entertaining local audiences with his "Hesuipian" every New Year. It's now almost a New Year custom to watch his film, like watching the CCTV Spring Festival gala.
The "Hesuipian" phenomenon has been spreading rapidly with more and more directors joining in. Feng is again participating in the New Year cinema with his latest comedy If You Are the One 2, the sequel to If You Are the One released in 2008.
Released nationwide today, If You Are the One 2 follows a similar storyline to the first: a middle-aged single man Qin Fen (Ge You) is on a love hunt sets up different dates. He falls in love with a young flight attendant Han Xiaoxiao (Shu Qi), who has just ended her last relationship. Qin tries his to attract Shu and hopes eventually marry her. With the same Beijing humor, comic feel and romance, the film this time probes its themes such as death and destiny more deeply.
There is narration throughout the film, making it flow smoothly like a personal experience of a middle-age confession. "It's an aging thing, as I'm growing older. I've been thinking about things like what to do after retirement and where to spend the my rest of my life, which, naturally, is reflected in the film," said the director. "It is a comedy, but with thoughts about life, death, marriage and destiny."
Renowned Beijing writer Wang Shuo teamed up with Feng who also wrote screenplay for this film. According to Feng, he initially wanted Wang to complete the story and Wang did it with creative ideas and witty lines. "I am like beer, Wang is erguotou (strong Chinese liquor). Beer and erguotou are mixed into a sort of cocktail which is mild tasting, but strong and long lasting," is how Feng described his partnership with Wang, who's the same age.
Wang wrote two key scenes for the film - a divorce ceremony and a funeral for a living person. "As people grow older, they have less and less imagination, but not Wang. He is always breaking the rules. People set weddings to get married, while Wang set a ceremony for a divorced couple in the film: The rings are taken back and the couple happily bid goodbye to their old marriage. The divorce ceremony seems absurd. It's Wang's unique black humor," said Feng.
There is also a funeral for a cancer victim attended by family and friends. According to Feng, both he and Wang have lost friends to cancer. "They stayed at home and were reluctant to see people. Wang wanted to hold a funeral while they are still alive, to give them a last chance to see everyone. It is a great idea for the film," Feng commented.