Passengers on subways in Beijing, Shanghai and Guangzhou might find themselves some free books to read, thanks to a campaign called "MoBook."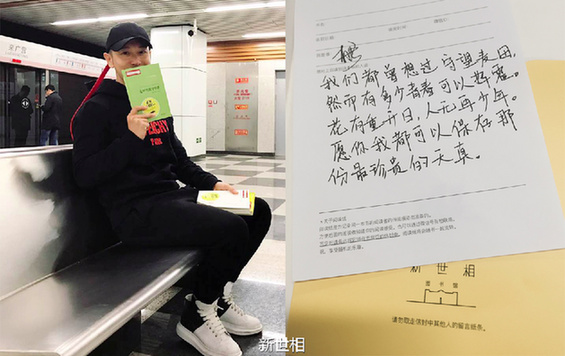 Chinese movie star Huang Xiaoming left 16 books on Line 14 of Beijing Subway with a handwritten note in each of them on Nov. 15. [Photo / Weibo.com]
The campaign, which launched on Nov. 15, was organized by a Beijing-based culture company. According to the organizer, they had already left 10,000 books on subways in Beijing, Shanghai and Guangzhou, on several Hainan Airlines flights and in several Didi riding-sharing cars.
In order to encourage all passengers to join in the campaign, the company opened a Weibo account and a website. Anyone who wants to leave or pick up a book can scan the QR code on the surface of the copy, then their Weibo account and location will be recorded on the sharing platform.
Inspired by British actress Emma Watson, who's been leaving books on public transit in London and New York, the campaign would like to recreate the same phenomenon in major cities in China.
The campaign also invited a group of Chinese celebrities to take part in it. Yesterday, famous movie stars, including Huang Xiaoming, Xu Jinglei and Zhang Jingchu, left their books on Beijing subways with handwritten notes in them.
It said that WeChat posts had reached over 100,000 views in just a couple of hours after its publication on 8 a.m. yesterday, and that it rose quite bit of attention on Chinese social media throughout the day.
Lots of comments joked about how crowded the subways in those metropolises already are — one can hardly stretch out his or her arms, how could they hold a book to read?
Some comments said that the campaign seems "romantic,'' but may affect public transport order and bring unnecessary trouble to subway staff. Shanghai subway officials said if no one takes those books, cleaning workers will collect them and store them in stations.
Other people even worried the books may be taken away and lost, causing the campaign to end in vain. However, the company official said they would like to believe that the campaign will bring some warmth and joy to those cities.