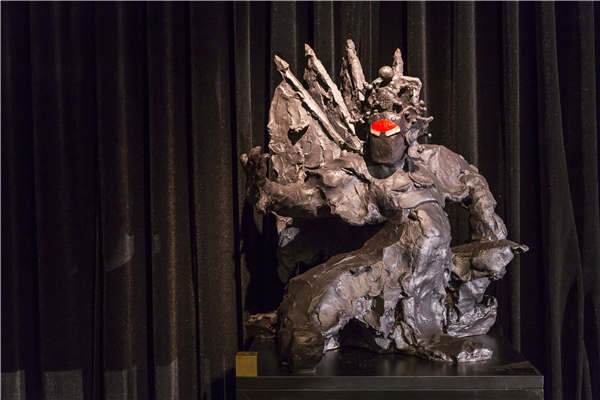 Much of Yu Zuokun's perception of the world stems from a childhood spent watching Peking Opera shows at an outdoor theater, an experience that has heavily influenced his artistic expression since Yu began his career as a sculptor a decade ago.
This is evident at Yu's solo show, being held at the National Center for the Performing Arts in Beijing, where dozens of bronze figures depicting characters from traditional Chinese operas-including well-known figures such as Guan Yu from the Three Kingdom Period (220-280), one of the best-known generals in China's history, and Yang Guifei, regarded as one of the four beauties of ancient China and the beloved consort of an emperor in the Tang Dynasty (618-907)-are on display. Adding to the theme, the sculptures are placed against a backdrop as if they are performing on a stage.
Yu creates his sculptures by employing xieyi, a technique promoted by ink painters in ancient China to draw the spirit of things instead of depicting all the details to make it real.
"Xieyi style gives Yu's sculptures a feeling of contemporary art," says Zeng Hui, curator of the show and a longtime friend of the artist.
Zeng notes Peking Opera bears much that style in its performance. For instance, opera performers waving whips in hand mean they are riding a galloping horse, while several actors standing in a line represents a whole army.
Yu's work simplifies the face of each sculpture, depicting the figure without eyes, noses or mouths, leaving the viewer free to imagine the character's ideal features in their mind, adds Zeng.
The Xiamen-based artist uses clay to mold all his sculptures by hand, a process, he says, records the time, because he has to add pieces of clay one by one, leaving his fingerprint on each.
Yu was born in a village in Ningde in Fujian province. His fascination with clay comes from his memory of not wearing shoes as a child and feeling the earth directly. He used to follow farming cattle across the fields and he was captivated by the animal tracks in the mud.