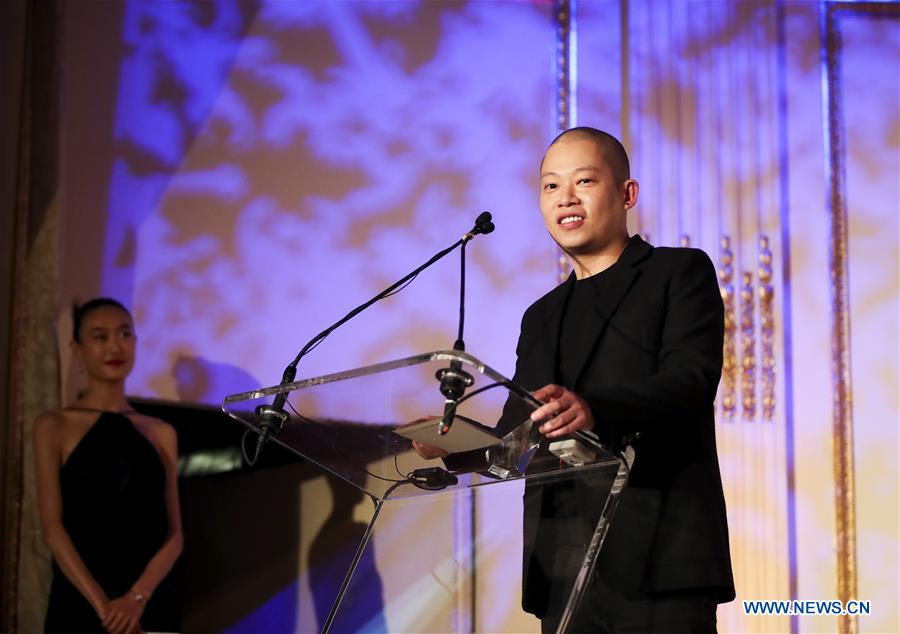 Designer Jason Wu speaks during the China Fashion Gala in New York, the United States, May 1, 2019. [Photo/Xinhua]
Outstanding Chinese fashion icons and brands were honored at the fourth China Fashion Gala here Wednesday night for their efforts to help position China at the forefront of the global fashion industry.
Jason Wu, an internationally renowned Chinese-Canadian designer based in New York, was bestowed with the "Fashion Leadership Award." The 36-year-old designer has received an array of accolades in the global fashion arena with an elegant collection that has dressed top models, celebrities and influential women, such as former U.S. First Lady Michelle Obama.
"China has become one of the fashion leaders of the world and the breeding ground of some of the most creative, innovative and interesting concepts of the world," said Wu.
And the label of "Made in China" has thus been given fresh connotations, standing for prestige, craftsmanship, beauty and integrity, which are "the things we are known for," he added.
Other honorees of the night included Chinese actress Shu Qi, Chinese skincare brand Shanghai Pechoin Group, Angelica Cheung, editor-in-chief of Vogue China, and Dee Poon with the Hong Kong-based Esquel Group, a pioneer in sustainability practices in the global fashion industry.
The annual event was organized by the New York-based China Institute and Yue-Sai Kan China Beauty Charity Fund (CBCF). Proceeds from a charity auction included in the event will help support the Yue-Sai Kan CBCF Scholarship with its education programs for Chinese fashion executives, young design talents and textile companies.