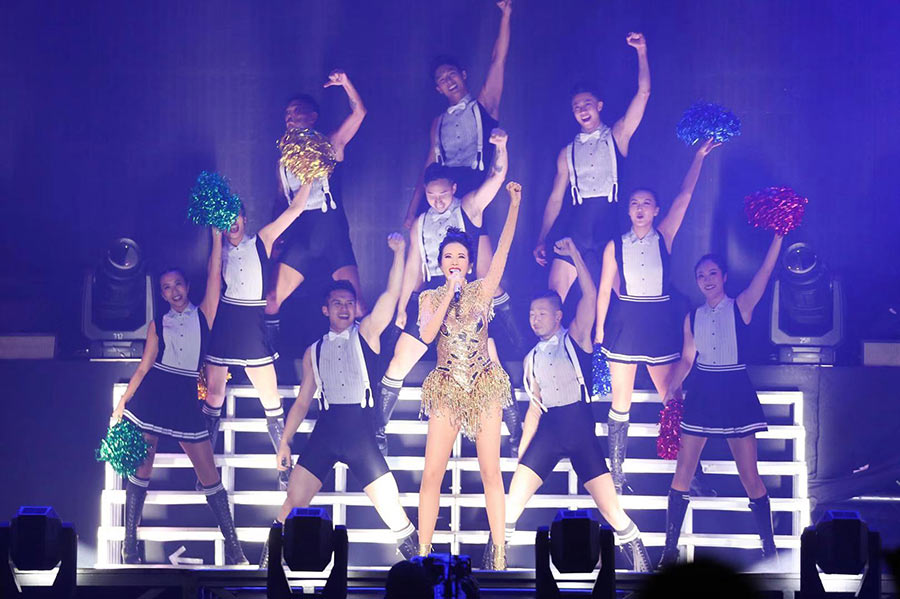 Karen Mok performs during her ongoing world tour, The Ultimate Karen Mok Show. [Photo provided to China Daily]
Karen Mok staged her solo concert in Beijing on Nov 24, which was part of her ongoing world tour, The Ultimate Karen Mok Show.
With a blend of music and dance genres such as tango, classical music, and ethnic dances, the Hong Kong pop star sang in four languages, Mandarin, Cantonese, English and Italian.
She also invited Taiwan singer-songwriter Chyi Chin to be her guest performer, with whom she performed a new song featured in the movie, Somewhere Winter, which was released on Nov 15.
A two-time winner of Best Female Mandarin Singer at Taiwan's Golden Melody Awards, she has released more than 30 music albums. She is also an accomplished actress, having starred in over 50 films and TV series throughout the years.
The ongoing tour, which started last summer, celebrates her 25th anniversary in show business. She will conclude the tour in the end of the year with seven more shows to be staged in cities, including Shanghai, Kunming of Yunnan province, and Taipei.
She announced that after the tour, she will move on to a new territory, musical, which she fell in love with at a young age. In 2005 and 2006, she starred in the hit Broadway musical Rent as Mimi on its 10th anniversary tour in Asia. Last July, Mok signed contract with Sony Music as a soloist and also teamed up with it to launch her own music label, Mok-A-Bye Baby Records.