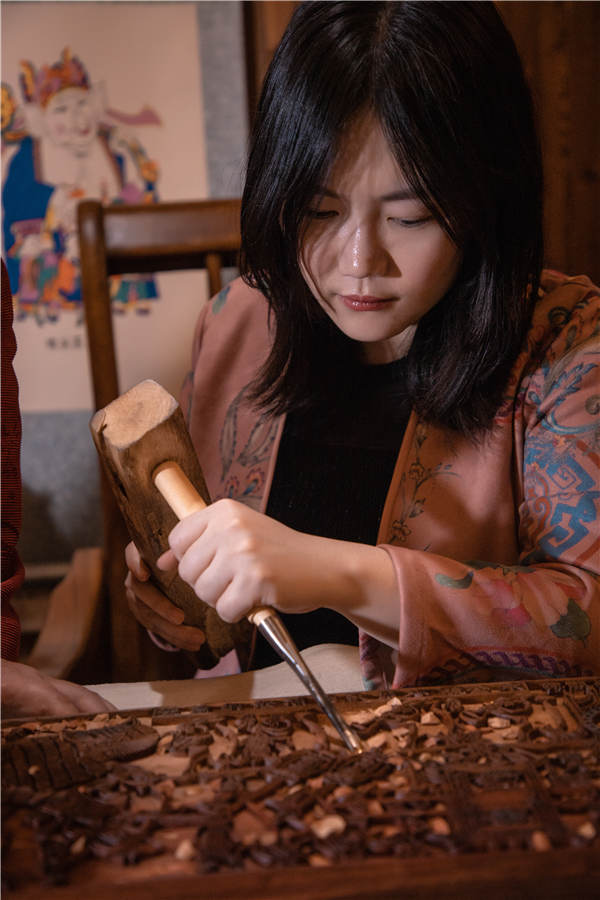 Journalist-turned nianhua artisan Zhong Xinglin has managed to catapult the lesser-known Tantou nianhua to stardom among young consumers across China. She was invited to share her success story at the opening ceremony of the conference on nianhua's inheritance and development held from Nov 23-24 in Weifang, East China's Shandong province. She is widely deemed both an outstanding younger-generation inheritor of the intangible cultural heritage and a shrewd entrepreneur in China's fledgling cultural and creative industry. [Photo by Zhong Xinglin/provided to chinadaily.com.cn]
Meanwhile, Tai Gaodi, a nianhua researcher with the Chinese National Academy of Arts, is busying herself building up the nation's most inclusive nianhua database for academic and educational use.
Young designers, too, are making immense contributions to the revival of nianhua, said Wang Jian, a mass media researcher with Nanjing University, at the seminar on nianhua's new applications.
They have teamed up with nianhua artisans to create the so-called Neo-nianhua works and nianhua spinoffs, such as mouse pads, scarves, T-shirts, pillows, bags, stickers, calendars, and smart phone cases, he explained.
"These novel products are usually characterized by common scenes from daily life, and they have easily become an integral part of contemporary life," said Wang.
People of different ages and from different areas are making joint efforts to revive nianhua. "Most importantly, more and more young people are engaging themselves in the creation and promotion of nianhua and as such, have injected new life into the millennium-old folk art," said Chang Huixue, managing director of wodsy.com, at the nianhua conference.
Affiliated with the China Cultural Media Group Co Ltd, wodsy.com is a portal specialized in promoting traditional Chinese skills and crafts, and a key co-organizer of the conference.
Themed New Nianhua, New Life, the two-day event drew at least 300 officials, artisans, designers, researchers, and marketing and sales specialists from across China.
The conference featured three seminars on nianhua's creation and innovation, mass communication, and integration into contemporary life, a preparatory meeting attended by the founding members of the Chinese New Year Woodblock Prints Inheritance and Development Alliance, and a grand exhibition of traditional Chinese New Year Woodblock prints, neo-nianhua works and nianhua spinoffs from the hands of artisans and designers from different parts of the country.
The conference also unveiled a year-long campaign, supported by the Ministry of Culture and Tourism, to raise public awareness of cultural heritage in 2020 by publicizing master craftsmen, holding nianhua-making workshops, art fairs, and mounting nianhua exhibition tours around the nation.