The works of Wang Wei, a 2019 graduate, are permanently collected by the Chinese National Museum of Ethnology
enad.tsinghua.edu.cn , February 7, 2021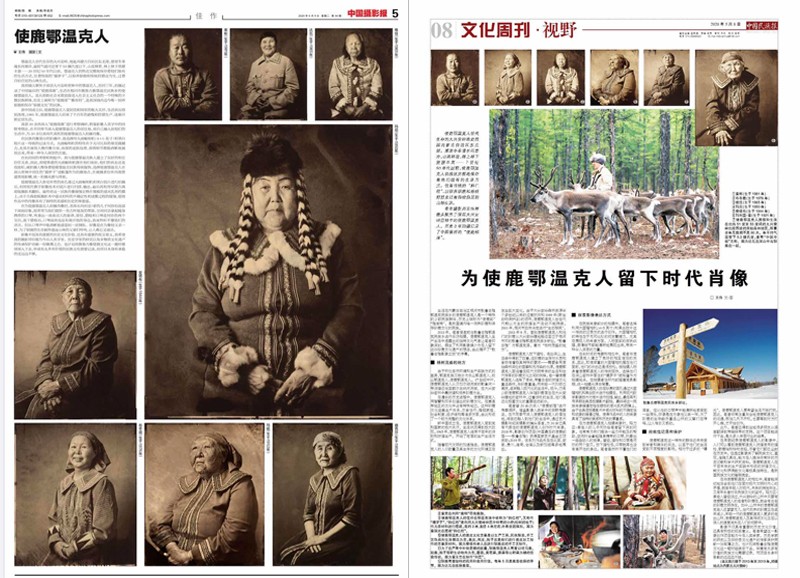 "The Last Reindeer Tribe in China," a project funded by the Youth Art Talents Program of the China National Art Fund, carried out by Wang Wei, a 2019 graduate of the Photography Specialty in the Department of Information Art & Design, the Tsinghua Academy of Arts & Design, under the guidance of Prof. Feng Jianguo, has been selected for exhibition in "2020 - Chinese Visual Ethnographic Photo Biennial." Thirty precious photographic works about Reindeer Ewenke people are permanently collected by the Chinese National Museum of Ethnology.

In 2013, when invited to interview people and take photos in Aoluguya Ewenke Ethnic Township, Wang Wei was attracted by the pristine, mysterious and unique atmosphere revealed in the production and life of Reindeer Ewenke people. It was precisely because of this unforgettable experience that he has developed an indissoluble bond with this primitive tribe. Over the past few years, he has made over 20 in-depth investigations into the "Reindeer Tribe," and recorded a large number of Reindeer Ewenke people's images with reference to the field investigation method in image anthropology, thus contributing to the anthropological and historical research and the inheritance and protection of intangible cultural heritages.
In the photography of ethnic portraits, Wang Wei used the traditional photographical method of large format camera (4×5 inches) and black-and-white film. A large format camera is characterized by its incomparable visual power, especially in the photography of portraits, where the skin texture and expression details of people's faces can be clearly presented. In the past two years of investigation and communication, Wang Wei has established a friendly relationship with the Ewenki people he photographs. "Even before the bulky large-format camera, they can still maintain a very relaxed state."