Editor's note: Cultural heritage encompasses more than just monuments and collections of objects; it also includes traditions or living expressions passed down from our ancestors to future generations. This concept is known as intangible cultural heritage (ICH), according to UNESCO. To explore China's ICH and its development, we have selected a list of Chinese keywords that offer a closer look at the nation's intangible heritage.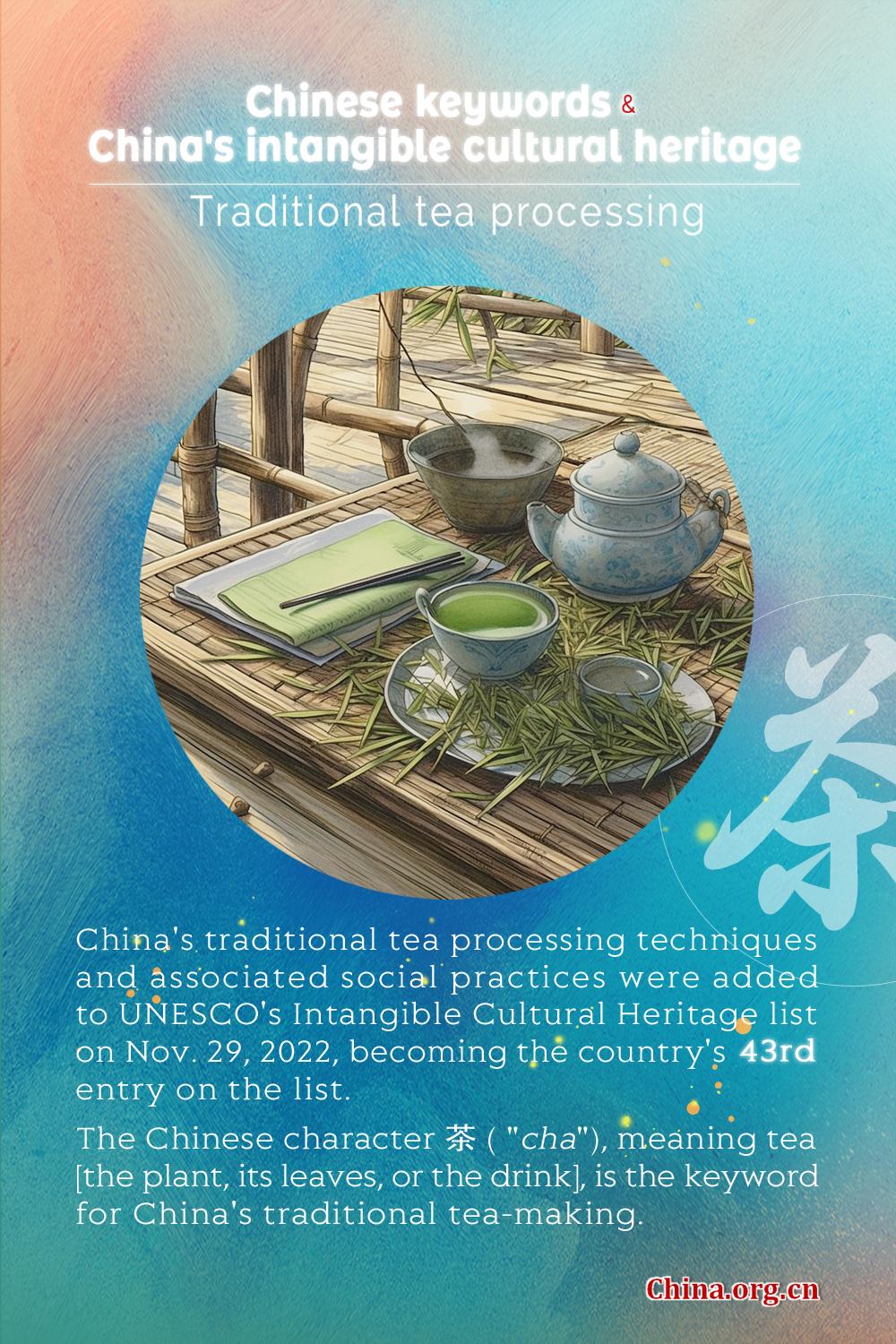 China's traditional tea processing and its keyword
China's traditional tea processing techniques and associated social practices were added to UNESCO's Intangible Cultural Heritage list on Nov. 29, 2022, becoming the country's 43rd entry on the list.
The Chinese character 茶 ("cha"), meaning tea [the plant, its leaves, or the drink], is the keyword for China's traditional tea-making.
China's traditional tea processing techniques and associated social practices encompass the knowledge, skills and practices related to tea plantation management, tea-leaf harvesting, manual processing, and the drinking and sharing of tea.
Six primary tea categories – green, yellow, dark, white, oolong and black – have been developed in China based on local customs and natural conditions. There are also reprocessed teas, such as flower-scented teas, which contribute to over 2,000 distinct tea products with diverse colors, aromas and flavors.
"Tea is ubiquitous in the Chinese people's daily life and is served steeped or boiled in homes, workplaces, tea houses, restaurants and temples. It is an important part of socialization and ceremonies such as weddings and sacrifices," UNESCO stated.
Thanks to the ancient Silk Road and the Tea Horse Road, Chinese tea extended far beyond China's borders and was cherished by people across different countries throughout history. Today, Chinese tea and its associated social practices still play an essential role in connecting different cultures, demonstrating its enduring value as a globally sought-after commodity.