Beautiful, world-renowned historic attractions like the Great Wall, Forbidden City and Summer Palace attract tourists to Beijing every year. These should be on your list of must-see places in Beijing, but after you've checked those off, there are still many more spots to put on your list. This 24-hour guide to Beijing includes some of the known tourist attractions, but allows you to see a side of the city that you might have not found before. To make a complete day, possibly without sleep, here are several restaurants, three markets, two historical sites, parks, and a spa to relax at the end of a busy day in China's capital city.
How to: See Beijing in 24 hours
8 a.m. to 10 a.m. -- Temple of Heaven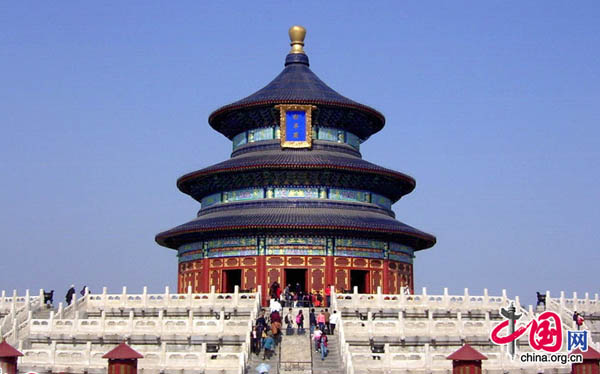 Temple of Heaven. [China.org.cn]
The Temple of Heaven, a well-known attraction, is a wonderful example of Chinese architecture and is the largest complex of ancient sacrificial buildings. The Ming and Qing emperors would make offerings here in hopes of a good harvest. The temple is most recognizable by its splendid, blue-roofed wooden tower. It is located in the southeastern part of Beijing, and is a great location to go to in the morning. You can find many people out practicing Taiji, playing cards, or singing songs in front of the temple which creates a unique atmosphere from other attractions. You can also find many cypress trees surrounding the temple and some are more than 600 years old. With its soothing atmosphere and beautiful colors, the Temple of Heaven should be at the top of your list of things to do in Beijing.
Tips:
Time needed: 2 hours
Entry Fee: All-inclusive ticket: 35 yuan/ Entrance to park only: 15 yuan
(Get an all-inclusive ticket into the park. Without it you will need to pay an additional 20 yuan to get into each building.)
Hours: Daily 6 a.m. – 10 p.m.; ticket booth closes 4:30pm
Directions: Take the subway Line 5 to the Tiantan Dongmen stop.