A taste of the Spring Festival for foreigners
Foreign friends in Beijing got a chance to experience Chinese traditional Spring Festival culture on Wednesday.
She gives Chinese lacquer art a French touch
Gwenaelle Chassin de Kergommeaux, a French designer and artist, wanted to create something for China, where she has lived since 2007.
Families of expats can stay longer
Foreign family members of Chinese citizens will be eligible for a two-year residency permit in Beijing based on a family visit visa, according to the Beijing Municipal Public Security Bureau.
CBA star Marbury to receive Chinese 'green card'
CBA super star Stephon Marbury's efforts are being rewarded by Beijing who is expected to grant him a Chinese "green card" on Christmas Day.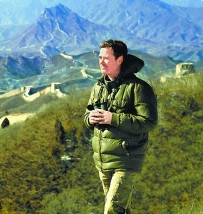 Terry Townshend, a British birdwatcher in Beijing
Englishman Terry Townshend has recorded more than 480 species of birds in Beijing over the past five years.
Taruike, China's first mixed blood basketball international
On Monday, Taruike became the first mixed blood player ever playing for a national level basketball team.
Beijing hosts walking event for int'l friends
The 2015 Walk around Kunming Lake for International Friends was held at the Summer Palace in Beijing on Oct. 24, 2015.
The British man who made his fashion dream in Beijing
Dominic Johnson-Hill has created a successful fashion business in Beijing.
My China: Alex Simms and his War horse play
Wedding ceremony in Beijing
My Chinese name is Caocao
Medical escort service launched for expats
Launched in July, Anxin Medical Escort Services provides personal assistance while seeing a doctor at 31 key public hospitals in Beijing.
Poland athlete retrieves lost gold medal in Beijing, thanks to taxi driver and police
Pawel Fajdek, Poland's gold-medalist at the World Athletics Championships in Beijing, retrieved his gold medal after he lost it in a taxi Sunday night, with the help of local police in Beijng.
Champion of pedal power never gives up
Ines Brunn has become one of the city's most vocal advocates of a two-wheeled lifestyle.
Argentinean photographer captures Beijing ring road
An Argentine photographer has broken a world record by shooting across Beijing's second ring road in one single film of 79.37 meters.