Ikea China has come under fire again — accused of double standards with regard to not recalling products in China that have been recalled elsewhere.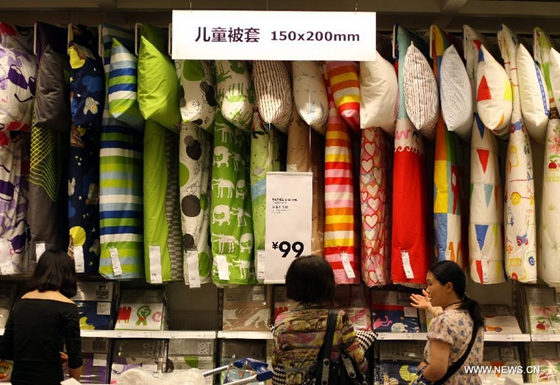 Consumers go shopping at the IKEA Wuxi Store in Wuxi, east China's Jiangsu Province, June 6, 2012. [Photo/Xinhua]
Critics say the Swedish furniture giant didn't recall its Malm line drawers in China but did do so in North America.
Ikea, however, said its furniture sold in China meets the country's quality standard.
The company announced recently that it had launched a recall of 17.3 million drawers in the United States and Canada after a 2-year-old boy in California was crushed to death after an unsecured Malm dresser fell on him in May.
The boy Jozef Dudek had been having an afternoon nap when he was found under the dresser by his father, according to the family attorney Daniel Mann.
It was the eighth fatality of a child under 3 years old that was blamed on unsecured Ikea dressers and the first to have occurred since last year's North American recall. Mann said the family planned to file a lawsuit.
The full refund recall scheme covers those who have bought Malm children's dressers above 60 centimeters high or adult dressers over 75 centimeters high — but the recall only applies to the United States and Canada.
During a visit to Ikea's Xuhui outlet yesterday, Shanghai Daily found that Malm chest of drawers were still being sold, but with a notice advising buyers to secure the furniture to a wall to ensure safety.
Ikea China said it had been issuing wall anchoring kits in its dresser products for over a decade and included the need to secure the dressers in its product assembly instructions.
The best way to ensure safety over the use of dresser is to firmly secure it to the wall, said Crystal Li, a PR official at Ikea China.
But the refusal to recall the furniture in China has sparked accusations of double standards and inadequate safety.
If there is a problem with the product, the recall should be worldwide and the standard over children's furniture should be stricter, said Zhu Changling, director general of the China National Furniture Association.
Lawyers said China's recall system over flawed products is not complete as it only covers specific categories such as automobiles, food, children's toys, and medicine.
"Safety is the priority and Ikea should apply the same practice any place to ensure safety," said Amy Wang, mother of a 6-year-old child who was shopping in the Xuhui outlet.
Last year, Ikea China launched a recall of more than 1.66 million of chests of drawers on China's mainland. It had initially refused to do so, provoking accusations of discrimination and consumer rights violations.
The company changed its stance after the Shanghai Quality and Technical Supervision Bureau got in touch with Ikea China and ordered it to fulfill its obligation on quality issues and safety hazards.