Sogou, China's second-largest search engine, introduced its next-generation artificial intelligence system for real-time speech translation at the 4th World Internet Conference held in Wuzhen, China on Dec. 4.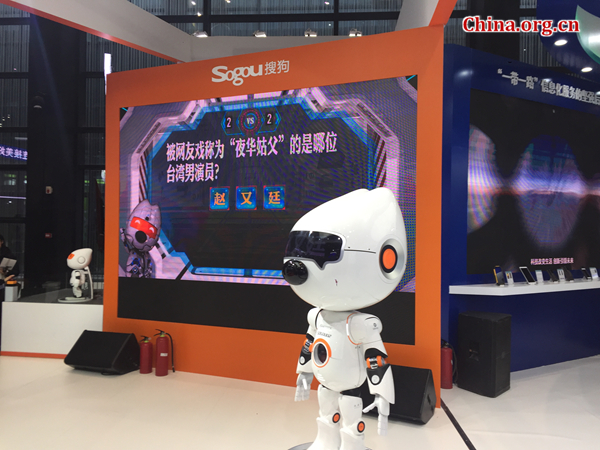 Sogou's exhibition booth at the Light of the Internet Expo during the 4th World Internet Conference in Wuzhen, China. [Photo by Guo Yiming/China.org.cn]
Speaking during a panel discussion via the company's new translation system, Sogou CEO Wang Xiaochuan said the product enables users to hear the content of his speech translated into American English in both male and female voices with the click of button.
The new system can also analyze and replicate features of the speaker's voice, thus translating both semantically and phonetically.
This comes after last year's conference when Wang stunned the crowd with a similar real-time translation system which transcribed spoken Mandarin into English text.
Sogou raised US$585 million in its initial public offering after debuting on the New York Stock Exchange earlier last month in a bid to accelerate its AI development.
Wang said he hopes the new product will help to enhance cross-cultural communication and mutual understanding.
A subsidiary of the NASDAQ-listed Sohu, Sogou is also known for its popular Pinyin input system, used every day by millions of desktop and smartphone users to type Chinese characters using Latin-alphabet keyboards.