Starbucks, the world's largest coffee chain, plans to further innovate its beverage and store designs as well as digital offerings to attract more diversified and technology-savvy customers in China after it opened its biggest cafe in the world in Shanghai on Wednesday.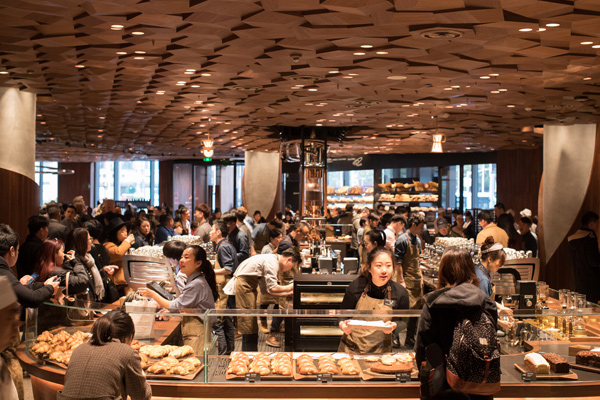 Customers select beverages and food items at the Starbucks Reserve Roastery in Shanghai. The store, which covers 2,700 square meters, is its largest outlet in the world. [Photo/China Daily]
The Starbucks Reserve Roastery, which is the company's largest store of its kind, opened three years after the chain launched its first Roastery in Seattle. It is planning to open similar outlets in Milan, New York and Tokyo soon. The two-story Shanghai outlet spread over 2,700 square meters, offers multiple brewing methods, specially crafted teas and freshly baked Italian food. Customers can use their mobile devices in the store to have the augmented reality experience.
Kevin Johnson, CEO of Starbucks Coffee Company, told China Daily that the Roastery will serve as an innovation hub for its stores in terms of developing new kinds of beverages and store designs.
Johnson said the company plans to work with more Chinese technology companies to enhance digital experiences in aspects like mobile payment, mobile ordering and supply chain management.
Howard Schultz, executive chairman of Starbucks Coffee Company, said the coffee market in China will achieve the same scale as that of the US in nine years. He said in addition to extending food offerings in its stores, it would set up a stand-alone Rocco Princi bakery alongside the Milan-based handmade bread baking unit in the Roastery in China.
Currently, the company is opening one store every 15 hours in China and has set a target of reaching 20 new cities every year. It is part of the coffee chain's long-term plans in China of expanding into other lower-tier cities.
China is the company's fastest growing market with more than 3,000 stores across 136 cities. By 2021, it will have 5,000 stores in the country. It is also the biggest revenue driver for the firm as its same store sales in the country increased 8 percent in the third quarter of this year, while other stores in the Asia-Pacific region rose only 3.2 percent.
Starbucks already has over 600 stores in Shanghai-the largest number of stores in any city where it has a presence.