Changsha's GDP is on track to break the 1 trillion yuan (US$153.1 billion) mark for the first time by the end of 2017.
From January to November this year, the added value from industries above the designated scale in Changsha increased by 8.3 percent year-on-year. The growth rates of the electronic information, automobile manufacturing, and rail transportation industries reached 23.1 percent, 26.5 percent and 75.5 percent respectively.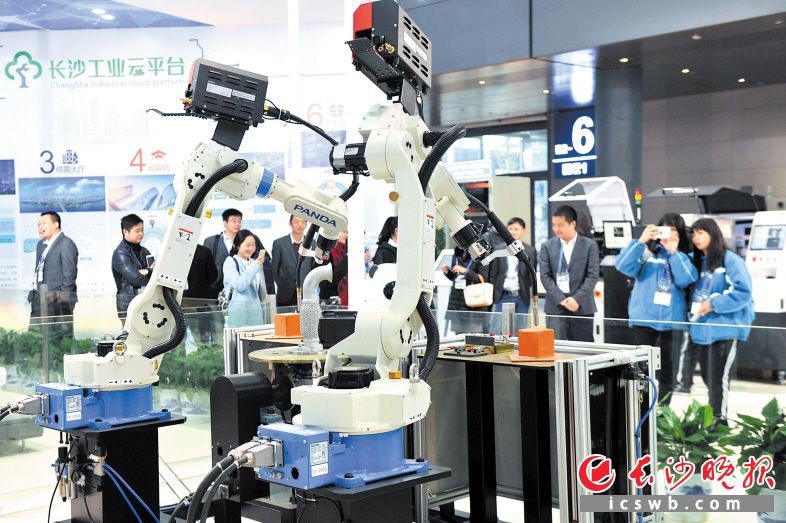 Changsha has started to upgrade its traditional industries and equip them with smart manufacturing capabilities since 2015. [Photo/icswb.com]
Deepening reform stimulates market vitality
The local authorities have simplified the procedure for business licensing. "It used to take five to seven days to get a business license, but now the process is very fast," said Tang Li, an entrepreneur who received his first business license after the procedure was simplified this June.
The local authorities also implemented new policies to revitalize Changsha's industries, attract more talents to the city and encourage scientific innovation. These measures in deepening reform provided the drive for its economic development.
Industrial projects boost development speed
The local government focused on introducing major industrial projects to facilitate the local economy. It has on average introduced a project with the investment amount of 1 billion yuan almost every week.
This year, 55 major projects with an average investment amount of 1 billion yuan and five major projects with an average investment amount of 10 billion yuan landed in Changsha.
These projects are spread across strategically important new industries, including new energy storage materials, genetic projects, driverless automobiles, advanced equipment, and core devices in the information technology sector.
Changsha's GDP reaches new heights
In the first three quarters of 2017, the GDP of Changsha surpassed 747.87 billion yuan, up 8.4 percent year-on-year. Its GDP is on track to break the 1 trillion yuan mark for the first time by the end of 2017.
The booming economy is attributed to local thriving industries, including smart manufacturing, engineering machinery and automobile manufacturing.
Huang Tao, Party secretary of the Changsha Municipal Commission of Economy and Information Technology, said 330 local companies were named pilot enterprises for smart manufacturing in Changsha, among which more than 20 were certified as state-level.
Engineering machinery manufacturer Sany announced, in its third quarterly report released at the end of October, that its operation revenue increased by 70.77 percent year-on-year, while its net profit surged by 932.56 percent year-on-year.
This had translated to a net positive for the entire engineering machinery industry in Changsha, which recorded a growth over the first three quarters.
Besides, the total output value of Changsha's automobile industry surpassed 100 billion yuan. It has become Changsha's seventh industry of this scale, following the new materials, engineering machinery, food, electronic information, tourism and cultural creative industries.
Investment on welfare improves happiness index
Changsha launched an initiative to build a green city last November. In the coming three years, Changsha will build 3,000 kilometers of green roadways and 600 parks. The city aims for the forest coverage rate of Changsha to reach 54.9 percent by 2019.
The Changsha-Zhuzhou-Xiangtan Intercity Rail has opened, while many subway lines are under construction.
The expenditure on people's welfare accounted for 77.5 percent of the general public spending from January to September. The increase of the investment on people's welfare has led to the improvement of the city's happiness index.