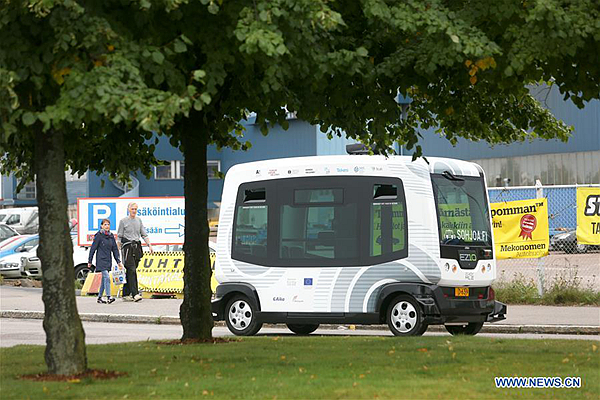 Robin Li, founder and CEO of Baidu.com, one of China's largest search engines, received a traffic ticket for his bold attempt to ride a driverless car to the company's annual artificial intelligence (AI) conference in Beijing on July 5, 2017.
According to the Beijing Traffic Management Bureau, the city has not yet permitted driverless vehicles on any of its roads. However, the trend towards unmanned cars is growing worldwide.
In addition to Baidu's foray into the testing field of smart cars since March, last year, General Motors, recently rolled out its super cruise technology. Meanwhile, Audi AG, has installed a moderate level self-driving system on its Audi A8 series.
The international classification for self-driving navigation technology is divided into six categories, ranging from Levels 0-5, signaling manned, partly-manned and completely unmanned operations.
Currently, the automatic driving systems of many vehicle manufacturers can only be switched between L1 and L2, as the sensors installed can recognize no more than the speed of the car ahead.
In response to driverless new technologies, the Beijing Municipal Commission of Transport and other administrations have jointly issued a circular (for trial implementation), which will regulate the evaluation system in terms of its contents and approaches adopted to test self-driving competencies of the relevant vehicles.
According to the circular, driverless vehicles are required to finish parallel parking in 1.5 minutes and two-time reserve parking within 3.5 minutes - equaling the time of an experienced driver. There are also tests for the recognition of traffic signals.
Jia Xinguang, the standing director of China Automobile Dealers Association, said that a string of accidents in the past have clearly shown that the most difficult challenge for driverless cars is the vehicles' recognition ability.
"To better ensure the security of the self-driving operation, the driving test also requires the automated vehicles to distinguish the gestures of traffic police," Jia added.
Li Keqiang, professor and director of the Research Center of Smart Automobiles and Traffic Conditions of Tsinghua University, said that the circular is aimed at the vehicles classified between L3 and L5.
According to the circular, drivers in a driverless vehicle are required to switch functions from unmanned to manned in an emergency.
According to Li, temporary traffic controls or traffic commands are susceptible to the blind zones of the sensors installed in cars and may jeopardize road safety.
"The application of L3 may come soon, but those of L4 and L5 still need time," Li said.