The Nepalese government is looking to strengthen their cooperation with China on the development of hydropower projects, Nepalese ambassador to China has said.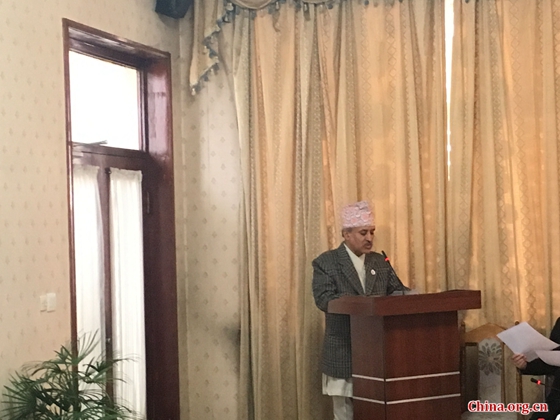 A seminar on investment opportunities in hydropower projects in Nepal was held in Beijing on March. 23, drawing about 100 experts, officials and enterprisers from China and Nepal.
Leela Mani Paudyal, Nepalese ambassador to China, said in his opening remarks that Nepal has attached great importance to relations with China, and is looking forward to more concrete agreements with Chinese companies that are interested in Nepal's hydropower sector.
He also pointed out the huge potential that lies in Nepal's hydropower sector, saying that the current 800 MW hydroelectric projects in Nepal tap only 1 percent of the total potential capacity. "Our four major river systems and over 6,000 other rivers are capable of producing huge quantities of power with different capacities."
Barsha Man Pun, minister of the Energy, Water Resources and Irrigation Ministry of Nepal, sent a message of support for both sides' aspirations to further develop hydropower projects in Nepal. He hoped that this seminar could shed light on China's financing and technical support for Nepal, especially in the field of hydroelectric generation and transmission.
In 2016, the Upper Marsyangdi-A Hydroelectic Project (50MW), the first China-invested power project in Nepal, developed by a China-Nepal joint venture company, started operations, giving a much-needed boost to the government's effort to ease its load shedding in winter.
In an effort to enable the Chinese entrepreneurs with a better understanding of Nepal's hydropower sector, Binod Prasad Acharya, minister (economic) of the Embassy of Nepal in China, elaborated on the prospects for investment in Nepal from the perspectives of the tax system, fiscal incentives, and major policies and regulations.
"As China's partner in the Belt and Road Initiative and the founding member of the Asian Infrastructure Investment Bank, Nepal has deepened bilateral relations with China ever since. And I'm willing to see more Chinese companies invest in Nepal, benefiting the people of both sides in the future," Acharya said.