China's economic expansion into the Middle East and North Africa (MENA) region will benefit more countries and may grow in the years to come, said an expert on Middle East-focused venture capital who attended an international conference in Beijing on May 19.

Entitled "Innovation Trip to Beijing and Tianjin," the technological innovation event drew its curtains at a closing ceremony held by the Qadisha Group in Beijing. The program "Qadisha Bridging Innovation Platform" was also launched at the ceremony, with an aim to provide more opportunities for Chinese companies to invest in tech startups.
"There still are huge untapped opportunities for international players to enter the MENA," said Rabih Khoury, managing partner of Middle East Venture Partners (MEVP), adding that funding and technological support from China are widely welcomed by tech firms in MENA.
He pointed out that the MENA has a total population of 400 million, 60 percent of which is under the age of 30. The GDP of the 19 countries in the region has reached three trillion dollars, which presents a large potential market for deeper corporation.
Since the launch of the Belt and Road Initiative, China has been committed to enhancing cooperation on innovation with countries along the route. Currently, 19 countries along the route are from the MENA region, accounting for nearly 30 percent of the total.
Souheil Ali Hassan, strategy advisor at Advention Business Partners, mentioned in his speech that the MENA region boasts various advantages for consumption capability, infrastructure construction and policy support, presenting more opportunities for Chinese companies to access the local market.
Souheil also shed light on the three major promising areas that can strengthen collaboration between China and the MENA region, including freight logistics, e-commerce and an entrepreneurship sharing platform.
In 2017, China's R&D spending reached 2.08 percent of GDP. The number of in-force Chinese patents issued in China passed the million mark, and the value of technology transactions exceeded one trillion yuan. The contribution of scientific and technological progress to economic growth rose to 56.2 percent, and innovation's role in powering development grew markedly.
In the coming five years, China will focus on the Belt and Road Science, Technology and Innovation Cooperation Action Plan, which consists of the Science and Technology People-to-People Exchange Initiative, the Joint Laboratory Initiative, the Science Park Cooperation Initiative and the Technology Transfer Initiative
During the closing ceremony, Chenyi Law Firm, WTS Consulting, Beijing Returners Incubator Association for Science and Technology and other Chinese companies and organizations also signed cooperation agreements with Qadisha Group in a bid to better provide services for future financial and technological exchange.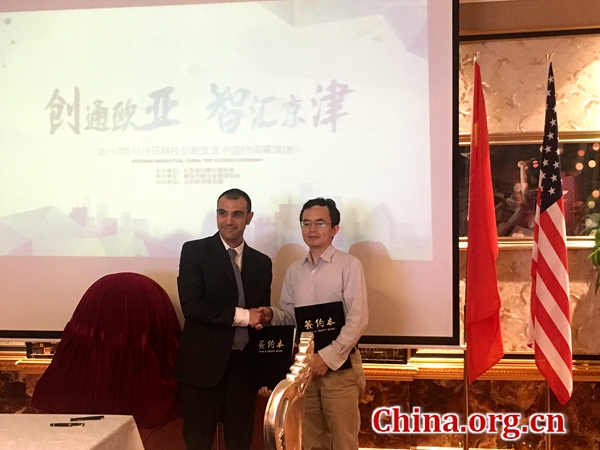 Bai Xianyue, managing partner of Lantai Partners (Tianjin), signs cooperation agreements with Qadisha Group in Beijing on May 19. [Photo by Cui Can/China.org.cn]
Bai Xianyue, managing partner of Lantai Partners (Tianjin), expressed his confidence in future cooperation between China and the MENA countries.
"It will be a promising transition to an innovation-led development model under the Belt and Road Initiative. And we will strive for an expanded cooperation by tapping potentials on wider areas."