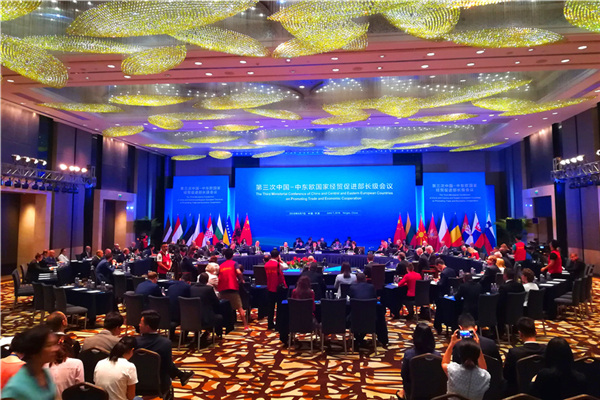 The coastal city of Ningbo in east China's Zhejiang province officially opened up to the outside world in 1979, and in 1984, it was listed as one of the 14 coastal cities of the Chinese Mainland to further open up.
In May 1999, Ove Nodland first visited Ningbo and relocated there with his family just two months later. Now, he serves as one of the new merchant ambassadors of the city.
As a Norwegian, Nodland was pleased to learn of the strong connections that Ningbo people had to the ocean, their interest to explore the world, and their desire to set up businesses across the globe. Feeling that both Norwegians and Ningbonese had much in common, he made the decision to relocate.
Over the past few years, he has worked to develop both business opportunities and the relationship between Ningbo and the Nordic countries.
"I've had a unique opportunity to be part of Ningbo's tremendous and unparalleled development during these 20 years," said Nodland, who was awarded the title of Merchant Ambassador of Ningbo at a symposium for Ningbo's international investment cooperation in the city on June 8.
As Nodland saw firsthand, Ningbo has enhanced its business environment over the years, and is now working to expand its economic and trade ties with foreign countries. One of the ways this is achieved is by hosting dozens of economic and trade events in the city, including the symposium that he attended, embracing representatives of governments and companies from many foreign countries around the world.
Beneficial government support
Recalling his first visit to Ningbo, Nodland said he saw a city and a people with a great potential, a city with diversified businesses, and great entrepreneurship.
After settling down with his family here in 1999, he set up a greenfield business in Ningbo with the support from the local government.
That same year, Ningbo hosted the first China Zhejiang Investment and Trade Symposium, during which 457 projects worth US$3.83 billion were signed between Zhejiang province and other parts of China and foreign countries.
Investments and businesses cannot flourish without important elements such as public services, education, health services, infrastructure, entertainment, and culture. Nodland said he believes Ningbo lacked many services on his arrival in the summer of 1999.