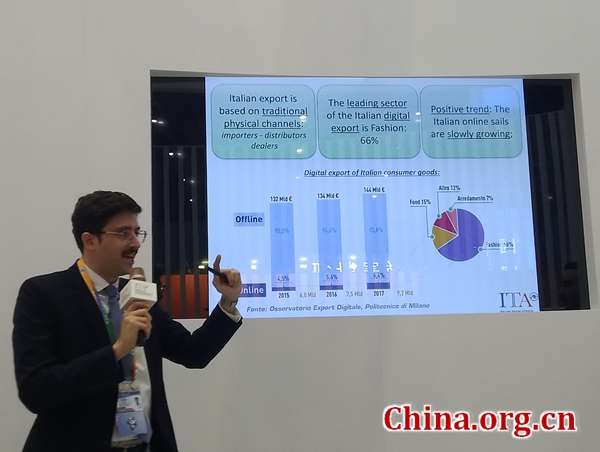 The Italian Trade Agency (ITA) has signed an agreement with China's e-commerce giant Alibaba to promote Made in Italy products on Tmall as an opportunity to explore China's massive online business.
During a roadshow at the Italian Pavilion in the ongoing China International Import Expo (CIIE) on Nov. 8, an official with the ITA Shanghai told China.org.cn that "helloITA", the virtual country pavilion, has officially opened on Tmall on Oct. 15, providing everything from food and beverages to luxury, fashion and lifestyle to China.
Carlo Dragonetti said that Italian exports are mostly based on traditional physical channels as the goods and services reach consumers through distributors and then dealers in the country.
Having understood the Chinese people's unique shopping habits, Dragonetti said they want to "approach the Chinese market just as the Chinese do" by promoting the products on B2C sites.
Currently, "helloITA" has attracted 103 brands, with both big names like Moschino and Missoni as well as many small and medium sized companies.
To join the brand hub on the Alibaba platform, all the Italian companies must apply from their headquarters in Italy to the headquarters of the Italian trade agency in Rome. "So, we are 100 percent sure that they are real producers that come from Italy," Dragonetti explained.
He said that there will also be special offers at the e-shop during China's Double 11 shopping festival, which is "one of the most important periods for its online sales in the country," and they will try to ensure that the Italian companies can enjoy the possibilities that the festival itself brings to Alibaba.