Zhang Ruimin, chairman of the Board and CEO of Haier Group, was the only Chinese entrepreneur invited to attend the Global Peter Drucker Forum in Vienna, Austria on Nov. 30, 2018. This is the 2nd time Zhang has been invited to the Drucker Forum, which management expert Charles Handy has referred to as "the birth place of business change."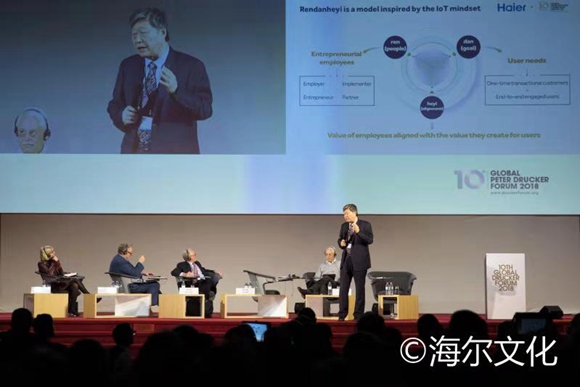 In his speech, titled "Rendanheyi – Maximizing Everyone's Value," Zhang explained how the Rendanheyi Model can disrupt traditional bureaucracy models by implementing an IOT mindset. This is achieved by making changes to people, organization systems and compensation mechanisms, and turning the organization into a Three-Selves organization. In this way, employees are inspired to be innovative and instilled with entrepreneur vitality, bringing about the alignment of employee value and user value. His speech also explained how Zhang Ruimin transformed Haier into an open entrepreneur ecosystem through the innovative Rendanheyi Model, and built a platform where every person has the opportunity to be an entrepreneur, making Peter Drucker's vision of "Every person is his own CEO" a reality.
This year, the forum focuses on the theme of "Management, in People's Dimension" to explore whether leaders in the 21st century should be adept at understanding people-related management techniques just as they do with the latest scientific discoveries. These days, IOT is no longer just a topic of scientists and researchers, but is closely connected to everyone's work and life. Yet, in this trend, most enterprises focus more on technological reform and innovation with little regard for the value of people involved in this process.
Zhang's speech triggered a spirited discussion among experts and entrepreneurs at the forum. Members of the board of directors from Germany's Bosch expressed admiration for the innovation and reform at Haier, commenting that "Haier sets up a model for us to learn." Julia Wang, dean of Drucker School of Management (Hong Kong), said she believes the Rendanheyi Model can be applied not only to business management, but also to other social organizations. Stuart Crainer, author of "The Management Century" and co-founder of Thinkers50, said the successful practices of the model are producing greater impacts on Europe and the world at large.
In his book "A Business Reformation: Lighting the Flame," Charles Handy pointed out that while the era calls for business reform, people need to reconsider the organization and figure out how to keep integrity of human value within corporations. He said, "This will be a reform, an unpopular reform." Then who will light the flame of this global reform?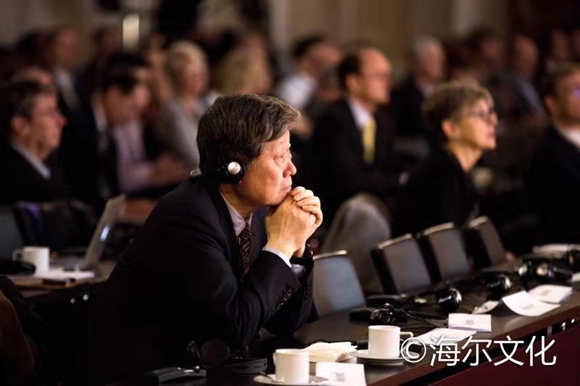 As a master in integrating eastern and western management thinking, Zhang Ruimin proposed the Rendanheyi Model back in 2005, and started the great transformation of the company for the age of the internet. The rigid hierarchy in the organization was thoroughly destructed, and the company became a networked organization. On Haier's platform, a great number of microenterprises were created, which were self-employed, self-motivated and self-organized. So far, there are over 200 entrepreneur-microenterprises on Haier's platform, among which 23 have been evaluated at over 100 million yuan, and 33 have received financing. Haier's open entrepreneur platform Haichuanghui established 24 incubators in 9 countries, attracting over 3000 registered projects, including 300 incubator projects, with a total evaluation of over 30 billion yuan.
During his speech, Zhang Ruimin also announced plans for the Vanguard Company alongside world-renowned management expert Gary Hamel. As a witness to and supporter of Haier's reform, Gary Hamel co-authored "The End of Bureaucracy" with Michelle Zanini. The piece served as a cover article for the Harvard Business Review, a leading management publication, and prominently featured Haier's management reform as an example. This time, Gary Hamel will join Haier, the company that he believes to be "the best case study for busting bureaucracy," in launching the Vanguard Company forum, where case studies like Haier's will be researched and studied. The goal of this forum is to inspire great changes in management organization, speed up management innovation, and build an organizational form that fundamentally suits the future of humanity.
After listening to Zhang Ruimin's speech, the official social media of the European Institute of Business Administration (INSEAD) said that it believed the Rendanheyi Model to be a key management innovation of the 4th Industrial Revolution. The Executive Dean of Education at INSEAD pointed out that the Chinese management model would be studied by western countries as Japanese models had been before. This echoes Charles Handy's comments from earlier. In this way, the Vanguard Company helps serve as fuel for the fire of management change.
This year, the forum was held at the Hofburg Imperial Palace in Vienna. This 700-year-old palace was where Beethoven's Eighth Symphony was played for the first time, and today it is where the horn is sounded for the Global Management Enlightenment Movement.