Nianhuo purchases by Chinese consumers, especially imported food products, have been increasing steadily as Spring Festival approaches.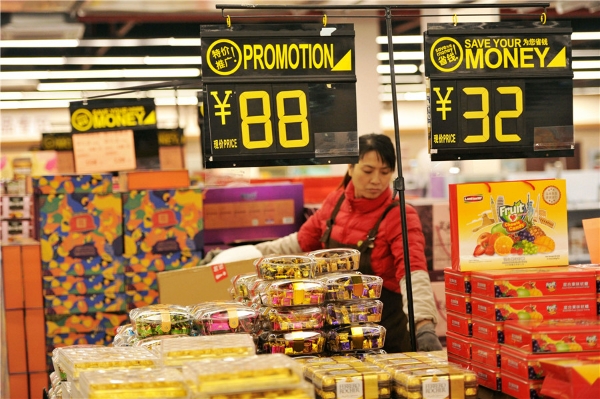 Nianhuo refers to special products often bought around Spring Festival, including not only gifts but also essentials needed for the holidays such as fresh produce, local delicacies, spirits, clothing and other wares.
Though tastes of nianhuo have changed over the years with the rapid development of the retail sector, it is the advent of mobile internet technologies that has triggered demand for imported food products. Alaskan crab, French lobster, Argentine beef, Chilean cherries, fresh milk from Australia … these are just some of the items that are now popular choices for special family dinners during the festival season.
To cash in on growing demand for such products, an array of retailers and firms are offering special incentives and discounts to lure customers.
Hou Enlong, president of online-to-offline retailer Suning Co that is based in Nanjing, Jiangsu province, believes rising demand for imported fresh produce will be one of the bright spots for retailers during this year's Spring Festival.
"Suning is adopting a direct purchase system globally to cater to the growing demand and has already teamed up with large farms and suppliers of agricultural products from abroad," Hou said.
The retailer has also strengthened its supply chain efforts to ensure adequate supplies of products, he said. Suning has formed alliances with more than 100 overseas production bases and has buyer teams in over 100 countries and regions to source and supply a wide range of imported fresh food products, including fruits, vegetables and seafood.
It also has 45 cold-chain warehouses to serve 179 cities across the nation. The company said it will offer one-day delivery service in more than 300 cities in China in the future.
In addition, Suning's nianhuo shopping festival will last longer than previous years, from Jan 18 to Feb 12, and will feature deep discounts and promotions to attract more shoppers.
Cross-border sales have been brisk on other retail platforms too. Sam's Club, Walmart's high-end membership store, has witnessed a shopping spree since early January.
Andrew Miles, president of Sam's Club China, said imported fresh food products are the top choice for many consumers who buy high-quality products during the celebrations.
For instance, cherries from Chile are one of the best-selling imported goods in its offline stores. During a recent one-day offline promotion event, the sales volume of Member's Mark Chilean cherries amounted to nearly 150 tons, up by over 500 percent year-on-year.
Sam's Club also saw the pre-order sales volume of imported cherries rise to more than 500 tons in three days on its online JD flagship store.
Charif Christian Carvajal, marketing director for Europe and Asia at the Chilean Fruit Exporters Association, said while Chinese are bundled up for winter weather, it's actually warm in Chile. "Cherries from Chile not only have counter-seasonal advantages, but also suit Chinese new year culture for its red color-which denotes luck and happiness. We hope the Chilean cherries will imbibe happiness and add color to the Chinese New Year market," Carvajal said.
Cherries are one of Chile's main exports, and the crop is usually harvested from November to February, making it one of the popular selections for Spring Festival shopping.
Chile is the largest supplier of cherries to China, which buys more than 85 percent of its exports. Statistics from the Chilean Fruit Exporters Association showed that Chile exported more than 125,000 tons of cherries to China over the last two years.
Carvajal claimed Chilean cherry producers and exporters are now working with Chinese e-commerce platforms to reach more shoppers in China, especially those living in the second-tier cities.