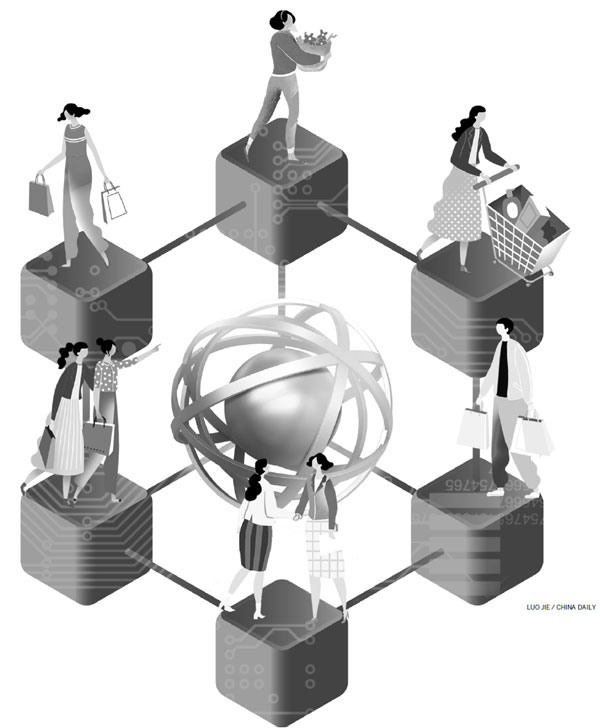 Industries are stepping up efforts in blockchain technology to serve the real economy, even though the global cryptocurrency market could be facing tough times.

As of November, China led the world in new blockchain projects, with 263 in progress.
The figure accounted for about 25 percent of such projects globally, according to data service provider Blockdata in Beijing.
Blockchain refers to the technology that underpins cryptocurrencies, but its real value goes far beyond that. In the digital ledger system, transactions are recorded chronologically and publicly, ensuring that data is secure and not tampered with, while allowing it to be shared among a distributed network of computers without the involvement of middlemen.
The technology is used widely across a range of industries in China, like financial services, public services, healthcare, supply chains, smart manufacturing and logistics.
"The main strength of blockchain is in decentralized data management," said Zhang Feixue, chief editor at Blockdata. "It can serve the real economy in terms of circulation and distribution. In the field of industrial economy, blockchain allows various assets to flow in the digital world, so it is a real gateway to digitalization for industries."
Paul Sin, leader of the Asia Pacific Blockchain Lab at global advisory company Deloitte, said, "Whenever there is a need to synchronize data, especially sensitive information, across companies, industries and geographical boundaries, blockchain can offer a great solution due to its cryptographical protection of data."
For instance, trade finance will allow banks to detect fraud, improve productivity and eventually enable small and medium-sized enterprises to obtain financing that was once unavailable to them. "This is a solid example of blockchain supporting financial inclusion and macroeconomic growth," Sin said.
In Deloitte's 2018 global blockchain survey, nearly 50 percent of respondents in China said the technology was already being used in their organization, compared with only 14 percent in the United States.
Li Qilei, chief technology officer at Qulian Technology, a blockchain platform developer in China, said the financial industry is now the biggest user of the technology in areas such as asset securitization for banks and brokers.
Take Qulian, for example. On an accounts receivable platform it developed with China Zheshang Bank, the scale of financing has reached hundreds of billions of yuan since its launch in August 2017.
Qulian, in Hangzhou, capital of Zhejiang province, launched Hyperchain, which focuses on enterprise-level network solutions for companies, government agencies and industry alliances.
In June, the company said it had raised a series B round of financing of 1.5 billion yuan ($222 million) - the largest amount in the domestic blockchain industry at the time.
In addition to linking with financial services, Li said blockchain can be applied in other areas such as green energy and smart government. Qulian is also working with some housing bureaus to build a trusted property chain, with the aim of preventing fake housing information appearing online.
Qulian is just one of 615 blockchain companies in China, with 82 percent of them founded between 2016 and last year, according to a report in December by Beijing think tank EO Intelligence. Half of the companies are working on the adoption of blockchain technology in the financial industry.
Internet giants Baidu, Alibaba and Tencent - collectively known as BAT in the industry - have launched their own blockchain initiatives.
Alibaba has been using blockchain in areas such as public welfare, food and healthcare since 2016. With 90 blockchain-related patents, it ranked No 1 in the Top 100 Blockchain Enterprise Patent Rankings, followed by international technology giant IBM's 89 patents, according to Beijing intellectual property information media outlet IPRdaily, which compiled the list last year. Tencent ranked eighth with 40 patents, while Baidu was 40th with fewer than 20.
In August, the tax bureau in Shenzhen, Guangdong province, and Tencent announced that China's first blockchain electronic invoice had been issued.
Du Xiaoman Financial, formerly known as Baidu Finance, released its blockchain white paper to outline its capability in developing applications in eight areas - consumer finance, management of financial clients and community building, asset digitalization, public welfare, identity systems, digital content copyright, interconnection between different products, and tracking.
China's innovations are also expanding overseas, one example being Ant Financial, Alibaba's financial services affiliate, which operates mobile payment tool Alipay.
International blockchain companies are also looking to China for opportunities. Digital Asset in New York is one example. The distributed ledger technology provider is working with Hong Kong Exchanges and Clearing to develop a blockchain-powered program to help international investors to trade Chinese mainland shares via Hong Kong's Stock Connect system.
Chris Church, chief business development officer for Digital Asset, said, "One of the reasons that HKEX is so important to us is because it is a gateway to the mainland's stock market." He added that he feels excited about how people want to advance the technology in the region.
Kang Li, assistant director at the Blockchain Research Center of China at Southwestern University of Finance and Economics in Chengdu, Sichuan province, said a blockchain product has yet to be put into practice on a large scale in China.
"The industry is still in a blossoming phase where more and more companies can come up with all kinds of chains, but they don't have an explicit idea of application service or supporting content," Kang said.
Although many see the potential in blockchain applications, the attitude being adopted is still relatively prudent due to a lack of direct return. In addition, regulations, user acceptance and conflicts with other industries are all issues facing the blockchain industry.
Data from research and advisory company Gartner show that in 2017, 82 percent of reported cases of blockchain use were in financial services, while the figure fell to 46 percent last year. The data appeared in the PwC Global Blockchain Survey 2018.
In December, Pan Gongsheng, deputy governor of the People's Bank of China, the central bank, said initial coin and security token offerings are essentially illegal in China "no matter how fancy the technical terms are". He said internet finance and related tools should be under even stricter supervision.