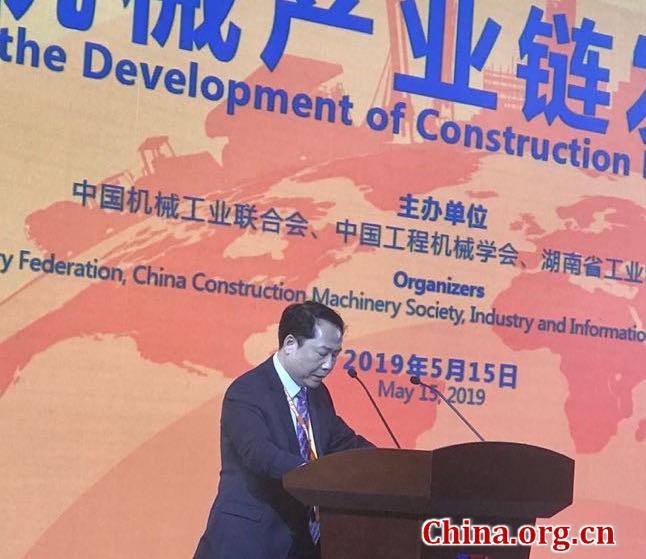 The Conference on the Development of Construction Machinery Industry Chain was held at the 2019 Changsha International Construction Equipment Exhibition (CICEE 2019) on Wednesday.
The meeting was jointly organized by the China Machinery Industry Federation, the China Construction Machinery Society, and the Industry and Information Technology Department of Hunan Province.
Yin Linbo, inspector of the Hunan Provincial Department of Industry and Information Technology, presided over the conference.
Xie Jianhui, standing committee member of the CPC Hunan Provincial Committee and deputy secretary of the Party Committee of People's Government of Hunan Province, gave the opening speech.
Li Zhijian, deputy secretary, deputy director of Party Committee of Industry and Information Technology Department of Hunan Province, said Hunan's engineering machinery industry takes the lead in industrial agglomeration degree, industry scale, industry types, innovation ability, manufacturing level, and development patterns.
By 2020, Changsha will transform into "the city of global engineering machinery" with the main business revenue of Changsha construction machinery industry reaching 217 billion yuan (US$31.56 billion) and 350 billion yuan by 2025, Li said. To achieve the goals, Li said attention should be paid to improving innovation ability, promoting intelligence, putting emphasis on major projects, improving collaboration ability, and accelerating agglomeration development of industrial cluster.
Attendees also include Luo junjie, deputy director of Department of Equipment Manufacturing Industry of Ministry of Industry and Information Technology, Xiang Ruan, senior vice president of Sany Heavy Industry and president of Pumping Department, Brian Patrick McGuire, president of Associated Equipment Distributors, Yang Tao, general manager of AEMETEC, Li Shulin, president of the Hunan Construction Equipment Rental Service Association, and Lin Baojun, chief designer of Beidou-3 System Satellite.
The business leaders spoke on experience sharing and brand promotion during the conference.
The event concluded with contract signings on projects that would promote cooperation within industry.