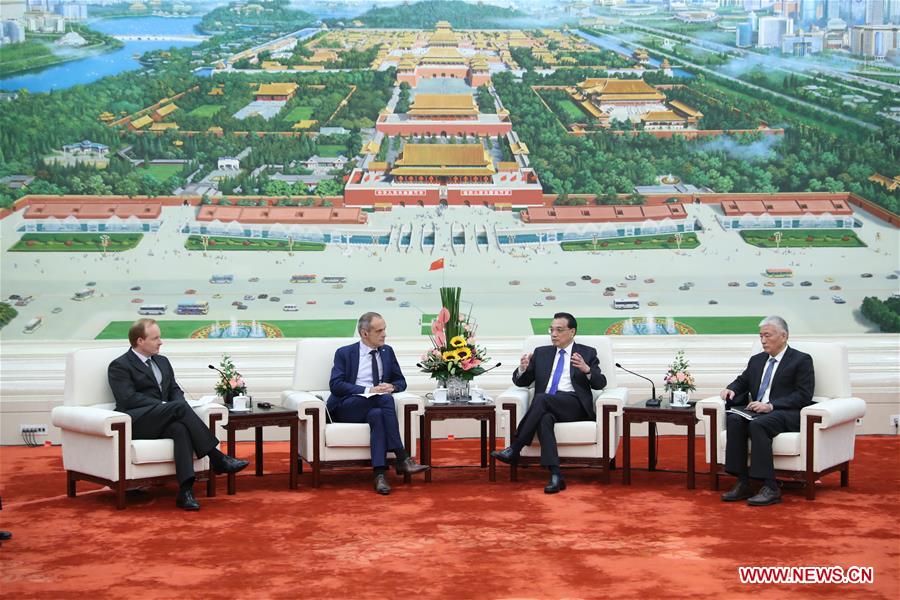 Chinese Premier Li Keqiang Thursday met with executives of a number of famous multinational companies who are in Beijing to attend the seventh round-table summit of the Global CEO Council.
A number of multinational companies, represented by the participants of the summit, have taken part in China's reform and opening-up process at an early stage, Li noted, adding that they have not only brought capital, technology and management expertise to China, but also secured a large market, reaped rewards and realized mutually beneficial and win-win results.
"As the instabilities and uncertainties of the international situation are on a rise, we need to push for the steady development of the world economy and trade, improve the global industrial chain and safeguard the peaceful global environment," Li said.
The premier pledged that China would unswervingly deepen reforms, further open up and build a market-oriented, law-based and international business environment. China also welcomes enterprises from all countries to expand investments in China and share the opportunities created by China's development, according to Li.
China, a large and ever-growing market with nearly 1.4 billion people, is in need of economic restructuring and transformation, industrial upgrading and a larger amount of high-quality products and services so as to meet the needs of improving people's living standards, Li said, adding this will create a large space of development for foreign enterprises to enter the Chinese market.
"We have fully opened the manufacturing sector to foreign investors and will gradually open up the service sector," he said, adding that Chinese companies need to improve themselves and achieve win-win outcomes through fair competition in global cooperation.
Li stressed that China's development should be based on innovation, and protecting intellectual property equals protecting innovation. "We treat all enterprises registered in China equally, whether they are domestic or foreign. We will protect their legitimate rights and interests, including intellectual property."
China also stands ready to synergize the Belt and Road Initiative with other countries' development strategies, facilitate people-to-people exchanges, safeguard free trade and realize common development, the premier added.
The entrepreneurs attending the meeting congratulated the 70th anniversary of the founding of the People's Republic of China and expressed admiration for China's achievements in all fields.
Although they come from different countries and industries, the entrepreneurs said they are ready to strengthen cooperation with China, be part of China's reforms and opening up drives and expand cooperation in medical services, finance, automobile, digital economy, 5G, low carbon, innovation, infrastructure, manufacturing and other sectors.
They also expressed willingness to help enhance global interconnectivity, safeguard free trade and oppose protectionism.