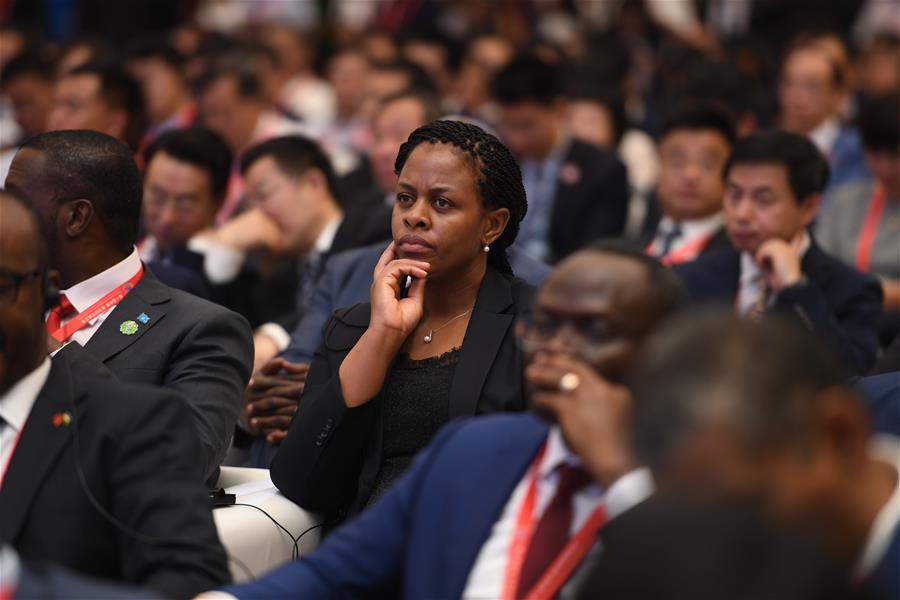 "Namibian oysters are selling well in Beijing, Shanghai and Guangzhou," said Rinouzeu Katjingisiua. "We are hoping to find more partners here."
For Chinese businessmen, with mounting pressure on labor-intensive industries as cost is surging and industrial upgrading is urgently needed, Africa is a great destination.
Wang Lianfang, owner of Qiqihar Quanlian Heavy Forging Company Ltd. based in northeast China's Heilongjiang Province, set up an assembling plant in Senegal two years ago to find new markets amid slump domestic demand on agriculture machinery.
"Africa has strong demand," said Wang, who is selling seeders, tractors and harvesters in the west African country.
"The output is expected to reach 2 billion yuan (291 million U.S. dollars) within 5 years," said Wang, adding that the company has been working hard for survival in the past three years.
The transfer of labor-intensive industries from China can also give a strong push to Africa's industrialization and modernization. It will expedite the economic take-off of Africa in the same way as how the industrial transfer had benefited China, Justin Yifu Lin said.
Agriculture and poverty reduction
With abundant resources, a large population and a vast market, Africa is still the poorest continent and falls behind in the overall context of development and is battling poverty and hunger.
For 11 years, paddy land has been Hu Yuefang's battlefield in Madagascar to fight against poverty.
"Madagascar can reach the self-sufficiency in rice as long as 15 percent of its rice planting area belongs to hybrid varieties," Hu Yuefang said, adding that the average yield of hybrid rice produced by Chinese technologies in Africa is two to three times more than that of local ones.
Buried in the field all day, the 61-year-old agriculture expert from Yuan Longping High-tech Agriculture Co. Ltd. (LPHT) has been on the frontier of closer agriculture cooperation between the two sides.
He said though he could not come to the scene, he expected fruitful results from the inaugural expo to help tackle challenges and bring shared benefits to China and Africa.
China took deliberate steps using the agriculture sector to transform its economy by setting up favorable agricultural policies, the experience of which can be learned by us to accelerate our development, according to Ugandan Minister of Agriculture Vincent Bamulangaki Ssempijja at the expo.
"We strongly believe that by working together with our Chinese friends through joint venture businesses, investment arrangements and win-win cooperation, the majority of African countries can quickly eradicate poverty," he said.
Hunger has long been bothering African countries. To help relieve the grain shortage, Chinese agricultural enterprises and experts, like Yuan, have been devoted to the continent for years, sharing China's wisdom and experience.
"We put red flags on the map to show our steps in promoting hybrid rice in Africa in recent years, which have covered nearly 20 countries in southeastern, western and northern parts of the continent," said Yao Zhenqiu, LPHT's deputy general manager.
Guided by Yuan Longping, China's "Father of Hybrid Rice," the LPHT expert team has successfully cultivated five kinds of high-yielding hybrid rice seeds suitable for the local soil and climate.
So far, Chinese experts and technicians have carried out more than 300 small-scale projects in nine African countries, promoted 450 agricultural technologies, and trained nearly 30,000 local farmers and technicians, according to Ma Youxiang, an official with China's Ministry of Agriculture and Rural Affairs, at the expo.
"We will continue to send high-level agricultural experts and vocational education teachers to African countries, to further expand training in Africa and help cultivate more talent in agriculture," he said.
The World Food Programme (WFP), the food assistance branch of the United Nations, is also taking the expo as an opportunity to meet Chinese business society to tackle food problems in Africa.
WFP will work with China to help Africa achieve the goal of 'Zero Hunger', said Qu Sixi, WFP China Representative.