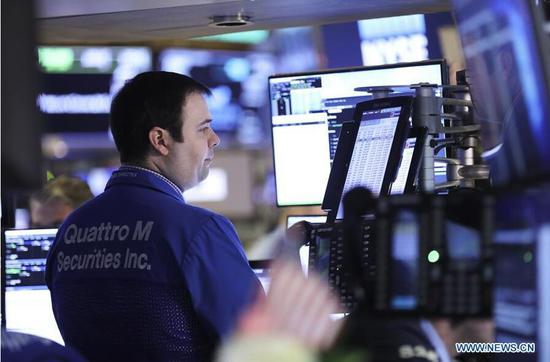 Positive signs in global trade pushed up Wall Street on Monday, with the S&P 500 notching a record closing high.
The S&P 500 index closed 0.77 percent higher at 2,964.33, marking its sixth record of 2019, according to Dow Jones Market Data. The index also logged an all-time intraday peak at 2,977.93 during the session.
The Dow jumped 117.47 points, or 0.44 percent, to 26,717.43, underpinned by solid gains in Apple and Nike stocks. Shares of the companies rose 1.83 percent and 1.74 percent, respectively, at the close.
The Nasdaq climbed 1.06 percent to 8,091.16 as chipmaker stocks rallied broadly. Shares of Skyworks Solutions surged 6 percent. Lam Research and Qualcomm advanced 1.86 percent and 1.91 percent, respectively.
VanEck Vectors Semiconductor ETF (SMH), which tracks the overall performances of major U.S. exchange-listed companies in the semiconductor industry, climbed 2.82 percent.
The market started out strong as traders were relieved that the world's two largest economies would resume trade talks, Mark Otto, an experienced trader at the New York Stock Exchange, told Xinhua on Monday.
At its session high, the S&P 500 was up 1.2 percent. The Dow and Nasdaq rose as much as 1.09 percent and 1.8 percent, respectively.
Monday's gains were somewhat capped by the downbeat economic outlook and more signs of a slowing economy, experts noted.
"After setting a new record high, the market surrendered some of its gains as headlines broke indicating that corporate earnings are going to be brutal," said Otto.
A report released by the Institute for Supply Management (ISM) on Monday showed that the U.S. manufacturing purchasing managers' index (PMI) registered 51.7 percent in June, a decrease of 0.4 percentage point from the May reading of 52.1 percent. The rate marked the slowest pace since October 2016.
The expansion in the manufacturing sector, which is often signaled by a PMI reading above 50 percent, "indicates growth in manufacturing for the 34th consecutive month," said Timothy Fiore, chair of the ISM's Manufacturing Business Survey Committee.
"Softening this month was primarily due to demand and inputs -- new orders, supplier deliveries and inventories," he added.
The market movement came after the equities posted solid gains in June, reversing May's loss as market sentiment was lifted by the central bank's hint on more accommodative monetary policy in the near future.
For the past month, the Dow notched 7.2 percent gain, the S&P 500 rose 6.9 percent, and the Nasdaq added 7.4 percent.