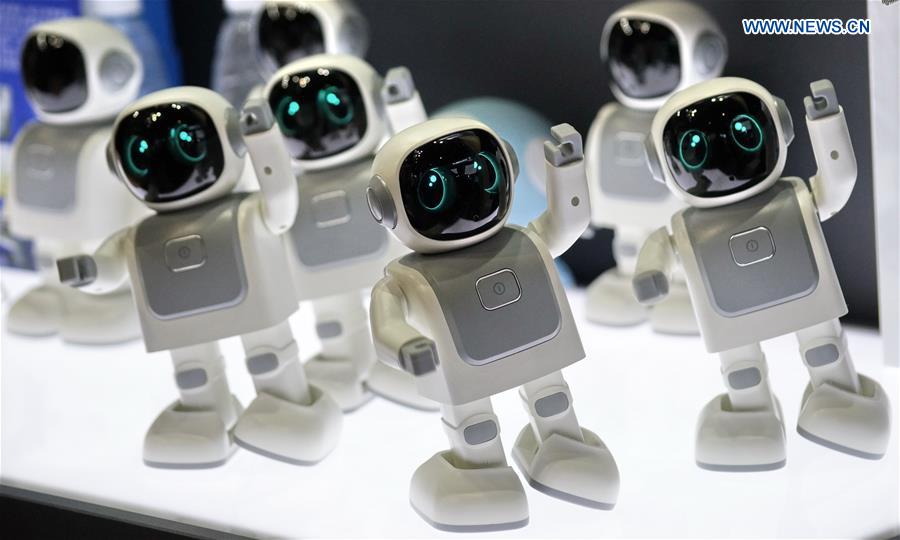 Funny-looking humanoids practice tai chi and sing Peking opera. A robotic surgical system performs a suture on a grape. A futuristic bionic bird spreads its wings and soars, as a crowd of visitors hold up their phones to take pictures.
The power of robots is on full display at the 2019 World Robot Conference (WRC) held in Beijing from Tuesday to Sunday, where more than 180 robot makers from China and abroad showcase cutting-edge robotics technologies.
The legion of robots, ranging from companion robots, security patrol droids to automated delivery vehicles, have impressed the large number of robot fans attending this year's WRC.
As the annual WRC enters its fifth year, China is moving into a new era of market boom and technological advances. The country's robot market is estimated to reach 8.68 billion U.S. dollars this year, accounting for about 30 percent of the global robot market and posting an average annual growth of 20.9 percent in the past five years, according to a recent report by the Chinese Institute of Electronics (CIE).
China has also launched a development plan for the robotics industry from 2016 to 2020 to boost research and development of key robotics technologies, foster major innovations and promote international cooperation in the field.
Miao Wei, China's minister of industry and information technology, said at the event's opening ceremony that the robotics industry serves as a key engine for the development of China's intelligent manufacturing sector and that China welcomes the rest of the world to join the development of its robotics industry and encourage international cooperation to jointly advance healthy and sustainable development of global robotics industry.
Booming industry
Industrial robots, key to boosting productivity in the manufacturing sector, are well represented at this year's WRC.
HIT Robot Group, one of China's leading industrial robot manufacturers, showcased its latest automated pharmaceutical packaging line. It features 10 robotic arms that can nimbly pick up pills and arrange them in order. The pills are later packaged, weighed and labeled automatically on the line.
"The packaging line has been used in many large Chinese pharmaceutical factories to improve productivity, reduce contamination and slash human exertion," said Tu Hongsen, vice general manager of a subsidiary of HIT Robot Group.
HIT Robot Group is one of the many Chinese robotics companies that have cashed in on China's huge demand for industrial robots, as the country aims to deploy a large robot army to turbocharge its manufacturing sector amid rising labor costs and an aging population.
According to the CIE report, China is the world's largest industrial robot market, with an estimated value of 5.7 billion U.S. dollars in 2019.
Besides manufacturing, robots are being used in China in many more areas.
A robot barista, developed by Chinese home appliance producer Gree Electric Appliances, has captivated many visitors at this year's WRC. The bright-colored robotic arm can make and serve coffee and even create latte art.
Also on display is Gree's famous robot band, comprising four robotic arms playing the piano, guitar, keyboard and drums. The band became an instant hit when it appeared on this year's China Central Television (CCTV) Spring Festival Gala, the most-watched annual show on Chinese New Year's eve.
Audiences at the WRC marveled at the band's performance as the four "musicians" moved their fingers swiftly and effortlessly on the instruments.