Weak merchandise trade, marked by a declining growth rate of global imports that has become a worldwide phenomenon, can be blamed on trade tensions and trade policy disagreements, according to an analysis offered in Beijing on Friday.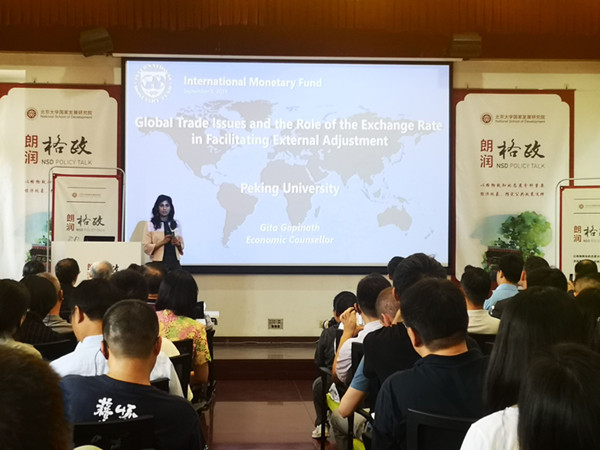 Gita Gopinath, chief economist of the International Monetary Fund (IMF), shared her insights on global trade during a policy talk at the National School of Development in Peking University, adding that the number one risk to global growth is the increase of trade uncertainties.
She also mentioned that, with matching tariffs already imposed or announced by the U.S. and China, world GDP is expected to decline 0.8% by 2020.
The IMF had just lowered the global growth rate figures to 3.2% in 2019 and 3.5% in 2020 in its World Economic Outlook (WEO) published in July.
Given those figures, "this 0.8% decline over two years is quite significant," Gopinath said.
In the WEO published in April, a chapter was devoted to discussing whether bilateral tariffs could lead to durable adjustments in a country's trade balance. Commenting on this, Gopinath said: "It is going to be hard to see how the bilateral tariffs can generate many changes in the bilateral trade deficit", adding that it was in line with the WEO's findings based on historical evidences.
With the tariffs already imposed, the American trade deficit to China had shown little shrinkage in the first half of 2019 compared with the same period last year, and it was U.S. importers who were forced to pay for a large proportion of the price divergence caused by the tariffs, she stressed.
Taking soybeans as an example, Gopinath explained that, before the imposition of tariffs, the prices of those imported from China and those imported from other countries without additional tariffs didn't diverge much; however, after the imposition of tariffs on their import from China was subject to tariffs, the price was much higher than that of soybeans imported from Brazil. In this case, it was the U.S. importers who paid for around 80-90% of the price divergence.
Furthermore, she pointed to the fact that the current trade policy disagreements actually had impact far beyond weighing on the global economy, with negative implications on technological progress.
Gopinath admitted that, despite concerns being expressed highlighting the necessity to properly address the cybersecurity issue, trade policy disagreements would hamper global technology diffusion around the world.
She took the Chinese telecoms leader Huawei as an example and called for closer examination of its contribution to research and development: Huawei is one of the top 20 patentees in the U.S., and holds many patent citations in other countries in addition to those in China.
"With such citations, the technologies advance faster," Gopinath said.
However, the Trump administration announced in May that the U.S. government had added Huawei, the world's largest telecoms hardware maker and the world's second-largest smartphone vendor, to a Commerce Department List blocking it from taking part in American telecoms projects.
"Thus, trade tensions could very well threaten global technology diffusion," the IMF chief economist said in conclusion.