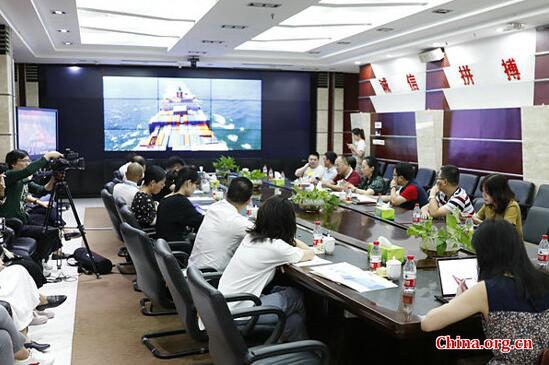 Fujian's private sector is a significant contributor to stimulating economic growth, creating about 70% of the province's tax revenue and more than 80% of job opportunities last year.
According to a government report, Fujian's gross domestic product (GDP) was roughly 3.58 trillion yuan ($526.5 billion) in 2018, up 8.3% year-on-year.
Authorities from local leading private enterprises gave their insights on Fujian's miraculous economic growth.
Jinjiang, a county-level city located in the southeast of the province, has become an incubator of advanced private enterprises. As one of the initial pilot units of deepened administrative system reform, the city set up Fujian's first administrative service center to streamline procedures and improve government efficiency in 2002. With constant efforts, all issues can now be handled at the center within just three steps as of 2018.
Hengan Group, the earliest enterprise to enter the sanitary napkins market in China, located in Jinjiang, achieved annual sales of 20.5 billion yuan and profits of 3.9 billion yuan by the end of 2018.
Liu Ying, vice president of Hengan Group, attributed the success to two factors, an innovative spirit and a sound government-enterprise relationship.
Influenced by Sino-US trade conflict, a core material of a new type of sanitary napkins from America was listed as a tariff-imposed good, which rapidly increased production costs. To help Hengan over the obstacle, the local government sent instructors to the company to introduce the latest policies on imposed tariff exemptions and helped them complete the exemption application online.
Apart from that, relevant government departments regularly visited the company to cater for their needs as possible as they could.
"Jinjiang's favorable business environment as well as the sound relationship between the local government and enterprises has boosted the economy and our business confidence," Liu said. "Although Hengan has become a globally renowned company, we never think about changing our headquarters."
Xiamen, a coastal city in Fujian, has also thrived from the private economy. It has actively promoted several policies to encourage technology innovation. According to an initiative, enterprises can receive an award of up to 52 million yuan based on their tax increments. Each technological transformation project will receive a maximum government subsidy of 10,000,000 yuan annually.
Hongfa Group, the leading enterprise in the relay industry, headquartered in Xiamen, achieved annual sales of 3.71 billion yuan last year and its global market share stood at 14.1%. Authorities told reporters that thanks to the policies, the company saved 100 million yuan in 2018.
Besides financially supportive policies, the Xiamen municipal government has launched housing policies for high-technology talent in an effort to retain them for high-quality city development.