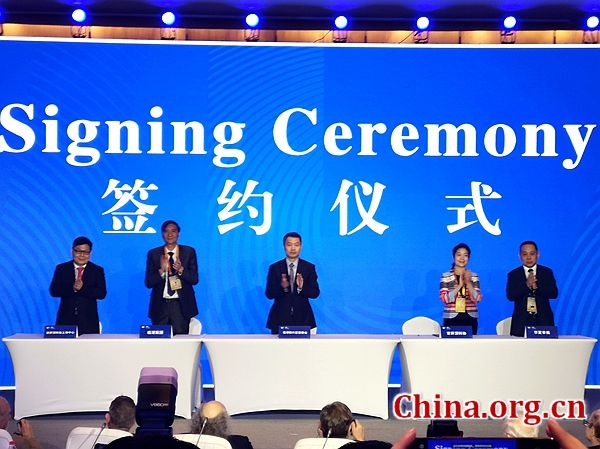 China Fortune Land Development (CFLD) and the World Laureates Association (WLA) signed a cooperation agreement in Shanghai on Thursday, vowing to synergize efforts in technological innovation, high quality development and industrial upgrading.
The agreement was inked during the closing ceremony of the 2nd World Laureates Forum in Shanghai on Oct. 31, an annual conference initiated by the WLA, which brings together 65 of the world's top scientists, including over 40 Nobel Laureates, to discuss under the theme of "science and technology, for the common destiny of mankind."
Zhao Wei, executive president of CFLD, said the WLA offered a full lineup of the world's best brains with the potential to lead the future of science, and he expected the cooperation with the organization would improve CFLD's innovation system and accelerate full application of advances in science and technology.
According to a senior executive at the WLA, with CFLD's expertise in creating innovative industrial clusters, building global innovation networks, as well as its strength in the capital market, the cooperation would also help create a sound ecosystem for innovative development and application.
As an operator of new industry cities, CFLD is committed to drive innovation through development of major industries such as advanced manufacturing, new energy vehicles, aerospace, and biomedicine, and has created over a hundred industrial clusters around China so far.
It has also set up innovation incubators in seven foreign countries and regions including the U.S., Israel and Germany, so as to consolidate global resources and promote innovative development.
Zhao pledged that, in the future, CFLD would continue to adopt new creative methods to discover, incubate and develop projects, and facilitates the applications of new scientific achievements.