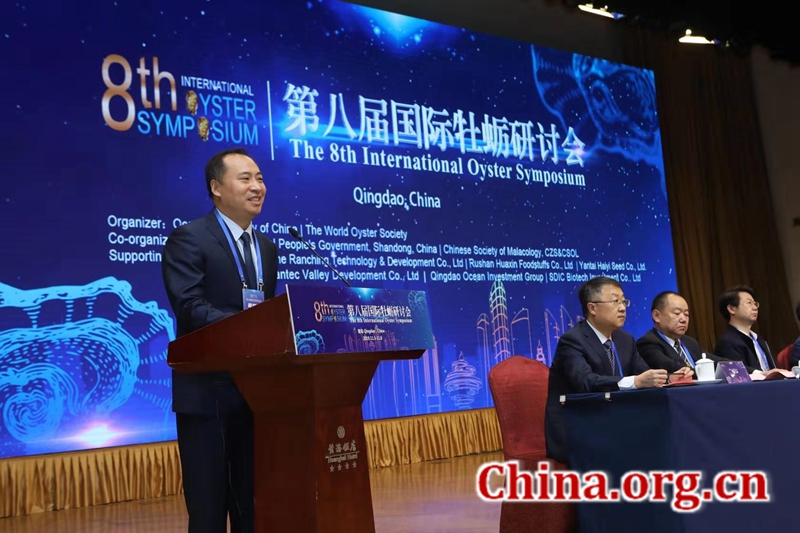 The 8th International Oyster Symposium was held Nov. 5-8 in Shandong province, including an experts exchange meeting hosted by the city of Rushan on the final day.
More than 100 insiders and experts attended the exchange meeting and visited several research bases and demonstration zones including a local marine education base, a provincial-level marine economic demonstration zone and the China (Rushan) Oyster Industry Research Institute.
Participants included experts from the United States and Japan among other countries and representatives from oyster nursery companies, breeding and processing enterprises, and the investment sector.
Professor Guo Ximing of Rutgers University in New Jersey said, "Rushan is one of the few places in the world that is suitable for shellfish growth. Rushan oysters have already had a high reputation in the world. I believe that, with the intellectual support of the China (Rushan) Oyster Industry Research Institute, the sector will certainly become a new engine of economic development in the city."
Professor Li Qi of the Fisheries College, Ocean University of China, expressed his confidence in the prosperity of the industry especially as the local government has attached great importance to its development and its sea areas meet national first-class seawater quality standards.
Gong Bengao, mayor of Rushan, speaking at the opening of the symposium, described the city as the hometown of Chinese oysters. In recent years, it has focused on the development of a modern marine industry, and implemented capital-driven, technology-led and talent-supported strategies to reconstruct its development model. To date, Rushan has developed 480,000 mu (about 32,000 hectares) of marine pastures and 25,000 mu (about 1,700 hectares) of marine demonstration zones.
During the symposium, Rushan and the World Oyster Academic Association achieved a strategic cooperation framework agreement for promoting high-end development of the local oyster industry.