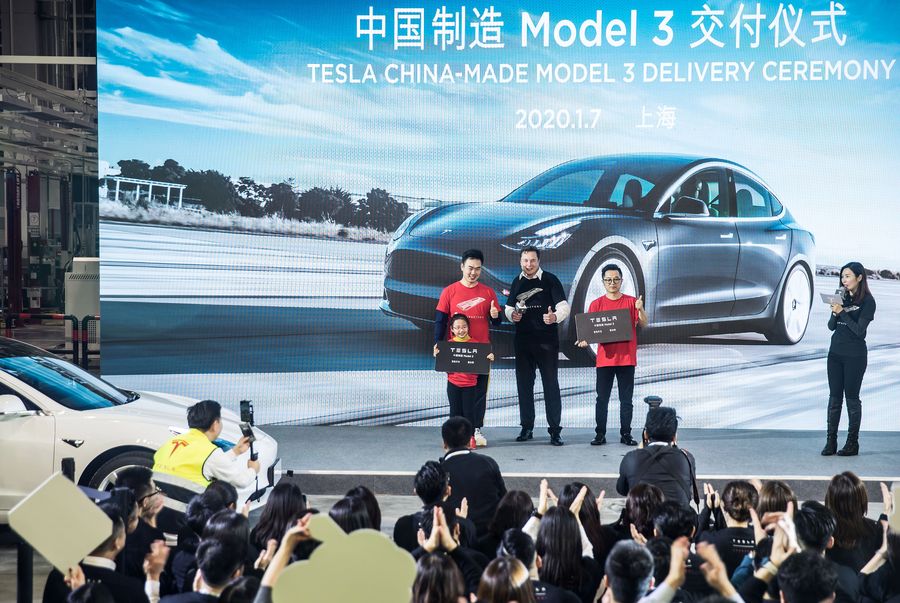 U.S. electric carmaker Tesla officially delivered the first batch of 10 made-in-China Model 3 sedans to the public Tuesday afternoon, one year after the company broke ground on its first overseas plant.
The company also announced the launch of a project to manufacture Model Y vehicles in its Shanghai gigafactory.
Guan Yunfeng, from the city of Wuxi, east China's Jiangsu Province, is among Tesla's first customers. "The new car looks so cool," Guan said excitedly.
Tesla CEO Elon Musk was also present at the ceremony. "The most amazing thing really is the incredible progress that has been made by the Tesla Shanghai team," he said. "Without the support of the Chinese government, especially without the help of the Shanghai government of all levels, we would not be able to make this progress."
"We'll continue to make significant investments in China, making Model 3, Model Y and future models as well in China," said Musk.
Tesla's China speed
Tesla signed an agreement with the Shanghai municipal government in July 2018 to build the factory. In October 2018, the company was granted approval to use an 864,885-square-meter tract of land in Lingang for its Shanghai plant.
As the largest foreign-invested manufacturing project in Shanghai, construction of the gigafactory began on Jan. 7, 2019 when the area was still a wasteland. In 10 months, it had already entered trial production and on Dec. 30, the first 15 Model 3 cars were handed over to company employees less than a year after it began operation.
Tesla's Shanghai plant has manufactured nearly 1,000 vehicles available for sale and reached a production capacity of more than 3,000 vehicles per week, according to Tesla's latest financial report.
"The sedans' components will be completely domestically produced by the end of 2020," according to Song Gang, the plant's manufacturing director. Currently, 30 percent of the components are produced locally.
Tesla has built more than 300 supercharging stations, 2,200 supercharging piles and 2,100 destination charging piles in over 140 Chinese cities, the company said. Tesla's first V3 Superchargers in Asia also went into operation in Shanghai in late December last year.