Niu Qinghua had a good harvest this year, but the apple farmer in Mengyin county, Shandong province was worried about selling during the outbreak of COVID-19.
"In previous years, apples would be bought away by fruit traders," she said. "Due to the epidemic, traffic is blocked and most people stay at home, which caused more than 5,000 tons of apples overstocked in the warehouse."
After learning about the difficulties of the fruit farmers, local officials adopted a new method to help them sell agricultural products—through online livestreaming.
Li Yuguo is one of officials helping farmers sell agriculture products via livestreaming. Starting in March, he and other county officials began getting in front of webcams to introduce apples to people online.
"Look at the apple, it is full of juice. The taste is crisp, sweet, and you can smell its fragrance," Li said during his livestream to online views. In two hours, the channel received 31,000 likes and 46,000 views, and more than 1,200 orders were placed online.
Li himself is an experienced online salesman, having hosted more than a dozen livestreams in the past few years selling peaches, apples, and chestnuts. In recent years, he has witnessed many changes in Mengyin county led by the development of e-commerce, which has not only changed people's way of income, but also promoted new ideas for local farmers.
"Officials turn into livestream salesmen, which can help local farmers change their ideas," Li said. "On the other hand, we can also promote Mengyin county to the public, not only introducing agricultural products, but also introducing tourism, history and culture of Mengyin county."
Li hosted his channel on Kuaishou, a popular short-video social media platform with more than 300 million daily active users. The platform has pledged to help farmers resume their work and production, and organized 100 county officials to help farmers sell agriculture products via livestreaming.
Yi Xuan, regional cooperation senior director of Kuaishou, said the platform worked actively with agricultural enterprises during the epidemic. With the help of big data, the enterprises can transfer their sales online. Meanwhile, Kuaishou gave livestreaming farmers a greater amount of network traffic than normal to help more users see their channels easily. It also reduced service fees for orders completed through the platform on those channels.
A growing number of county officials in China, many from poverty-stricken regions, have shaken off their initial hesitance with livestreaming and begun helping farmers to up their income. Cao Wenfei, deputy county chief of Leye county in Guangxi Zhuang autonomous region, is one of officials who also joined in on the trend and turned into a livestreaming salesman.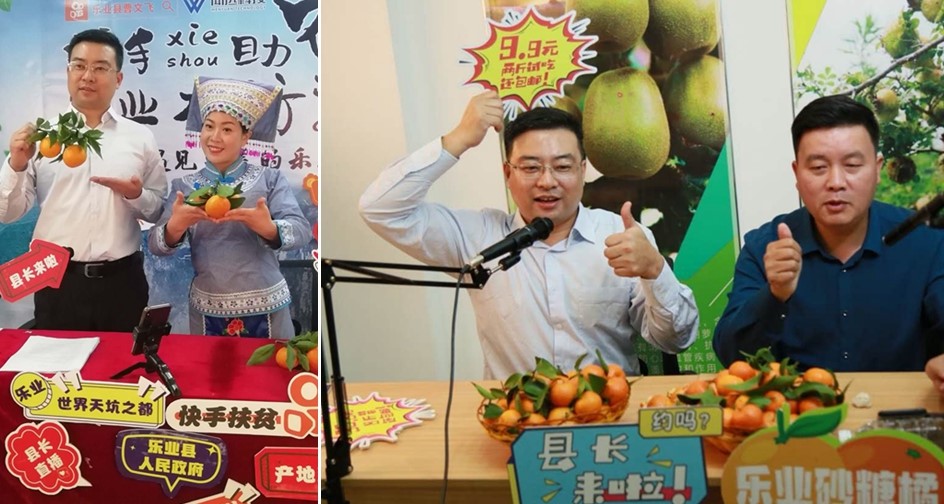 This year, Leye county suffered poor sales of its oranges due to the impact of the epidemic. Cao walked into a livestreaming studio and began selling oranges on March 4. "I prepared a few songs to sing during the livestreaming in order to ease the embarrassment," he said.
Cao first took on the task in January before the outbreak. He said he was able to sell double the amount of oranges on March 4 as the previous time, and he sold almost 1 million pounds in total. He has also tried learning from internet celebrities and how to chat with online viewers.
The county official said he has been rethinking his livestreaming experience since the first time when he nervously took up the job. "Livestreaming is an important channel for prefectural e-commerce development," Cao said. "Officials should understand the channel."
According to Cao, Leye is still a national poverty-stricken county and the thinking of farmers is still relatively backward. Livestreaming can bridge the huge distances and gaps between rural and urban areas.
"Our county will further promote the e-commerce platform and train local livestreaming talents," he said. "With the help of the livestreaming platform, farmers can sell local agricultural products, which could help them increase income and get out of poverty."