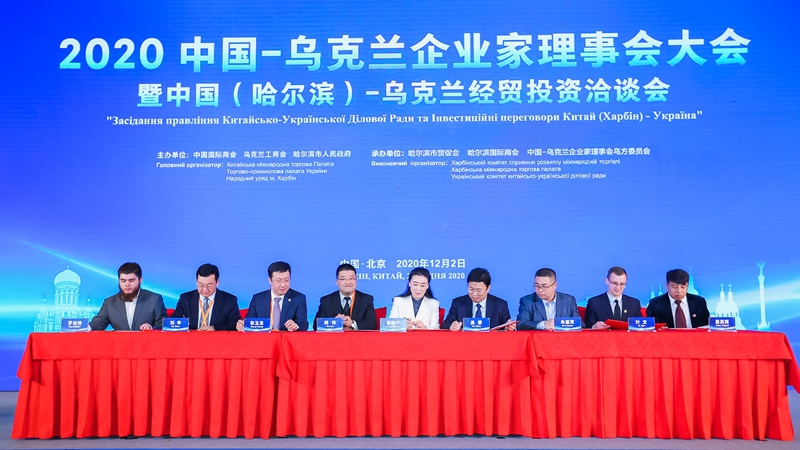 An investment fair was held Wednesday in Beijing aimed at increasing trade and economic cooperation between China and Ukraine.
With the theme of "Jointly Promoting the Belt and Road Initiative for a New Chapter in China-Ukraine Cooperation," the fair brought together more than 280 government officials and business leaders of both countries in search of opportunities for working together.
Owing to COVID-19 control measures, some Ukrainian officials and representatives of over 100 companies took part in the event remotely.
The annual conference of the China-Ukraine Bilateral Entrepreneurs Council was also convened during the investment fair. Established in 2010, the council is a platform for Chinese and Ukrainian entrepreneurs to leverage their comparative advantages and explore new approaches for cooperating on investment and trade.
Chen Jian'an, vice chairman of the China Council for the Promotion of International Trade, said that the China-Ukraine Bilateral Entrepreneurs Council has consistently provided quality services to companies from the two countries during the past decade.
With continued improvements to their work, Chen believed that the entrepreneurs council will make greater contributions to the trade and economic cooperation and the overall strategic partnership between China and Ukraine.
The council also announced the establishment of a liaison office in Harbin, northeast China's Heilongjiang province.
Ukrainian Ambassador to China Serhii Kamyshev expressed his hope that China and Ukraine will continue to deepen collaboration in a range of areas and stated his intention to visit Harbin soon.
Sun Zhe, mayor of Harbin, said the city has conducted fruitful cooperation with Ukraine in many fields such as aerospace, new materials and modernized agriculture. He added that the city will build on previous successes and work to open a broader space for cooperation between enterprises of the two countries.
The fair and the conference were co-organized by the China Chamber of International Commerce, the Ukrainian Chamber of Commerce and Industry, and the Harbin Municipal People's Government.