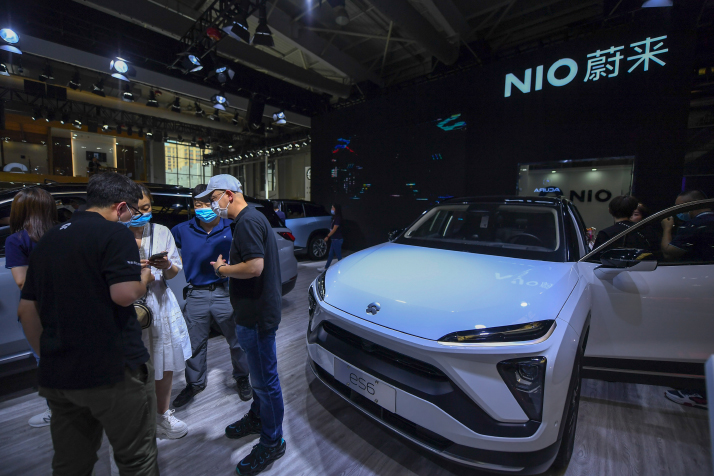 Although China's auto market shrank in the early months of 2020 as the novel coronavirus epidemic dampened demand, car sales have continued to expand in recent months. Data from the China Passenger Car Association (CPCA) shows that sales dropped 6.8 percent year on year last year, contracting from the year-on-year decline of 7.3 percent in 2019 as resumed sale of new-energy vehicles (NEVs) made key contributions.
According to China Association of Automobile Manufacturers, NEV sales stood at 1.37 million units in 2020 with a year-on-year increase of 10.9 percent. The CPCA projected, the total sales this year could reach 1.5 million units as exports and domestic demands further resume.
"Domestic NEV makers faced production suspension caused by the epidemic, financing difficulties and reduced government subsidies in 2020. The pressure forced the firms to improve the quality of their products to gain a stronghold in the market, which benefited consumers," Pan Helin, Executive Director of the Digital Economy Academy of the Zhongnan University of Economics and Law, told Beijing Review.
Key players
As a result of the booming market, leading NEV manufacturers, especially the three major homegrown electric car startups, NIO, Li Auto and Xpeng, reported strong performance.
Established in 2014-15, the three companies reached a record high in their deliveries in December 2020. NIO delivered 7,007 units, a year-on-year growth of 121 percent. Li Auto saw sales of its electric sport utility vehicle Li One rise by around 530 percent to 6,126 units. Sales of Xpeng jumped 326 percent to 5,700 units. NIO, which had the best performance, saw its 2020 sales total around 40,000 units.
In 2020, shares of NASDAQ-listed NIO and Li Auto rose 1,110 percent and 150 percent, respectively, while New York-listed Xpeng saw a 185-percent surge in stock price.
However, the combined sales of the trio, totaling around 90,000 units in 2020, were still lower than that of U.S. electric carmaker Tesla in China. With gigafactory built in Shanghai in 2019, Tesla's sales in the Chinese market exceeded 20,000 units as of late November 2020. Its global sales in 2020 reached nearly 500,000 units. The company launched the new made-in-China Model Y on January 1, with a price similar to that of the NIO EC6 at around 300,000 yuan ($46,436). The deliveries began on January 18.
But Cui Dongshu, Secretary General of the CPCA, said the price decline of Tesla cars will not affect China's NEV startups greatly, as the former still targets high-end markets while the homegrown brands are gaining a firm footing in the domestic market with more cost-effective products.
Traditional car manufacturers have also ridden the tide to expand market share. Homegrown brands such as Dongfeng Motor Corp., Changan Auto and SAIC Motor all introduced high-end electric cars last year. The NEV sales of SAIC-GM-Wuling, a joint venture (JV) between SAIC, General Motors and Liuzhou Wuling Motors, saw robust growth in 2020, surging 190 percent year on year to around 174,000 units.
"The performance of SAIC's electric cars meets the demands of consumers in rural areas, which is a large market remaining to be tapped," Fu Yuwu, head of the Society of Automotive Engineers of China, said at a forum in early January.
Many foreign automakers have also developed JVs in China, eyeing to further explore its NEV market through vehicle production and charging services. Last year, Japan's Toyota Motor and China's largest electric car manufacturer BYD forged a 50-50 JV to produce car batteries and electric vehicles. BMW later signed a contract with State Grid Electric Vehicle Service Co., a subsidiary of electricity supplier State Grid, to provide charging services jointly.
German carmaker Volkswagen invested in Gotion High-Tech Co., a manufacturer of electric batteries based in Anhui Province, east China, making the latter the certified battery supplier for its vehicles. According to Volkswagen's development plan, it intends to deliver around 1.5 million NEVs to Chinese customers by 2025.
Market competition will become fiercer as new players are entering the market. Internet company Baidu announced on January 11 that it will build a smart electric car company in collaboration with Geely, the largest private automaker by sales in China.
"Traditional carmakers with strong manufacturing capabilities can save costs on research and development to ensure profit margins and attract consumers with brand recognition," Pan said. He predicted that competition between traditional automakers and NEV startups will drive the improvement of manufacturing technologies.
Driving forces
China, with the world's largest inventory of NEVs, accounted for 55 percent of global NEV sales since 2010, the Ministry of Ecology and Environment said last October.
In addition to improving the quality of electric cars, the rising domestic consumption of NEVs can be attributed to preferential government policies and increasing charging facilities, Liang Wei, an assistant research fellow with the Ministry of Commerce (MOFCOM), told International Business Daily. To develop China into an automotive powerhouse, the government has issued plans and supporting policies for the NEV industry in recent years.
According to a guideline issued by MOFCOM in early January on boosting consumption in the countryside, it will subsidize rural residents trading in used cars for NEVs to phase out gasoline-powered vehicles with excessive exhaust emissions.
To stay on the fast lane of development, the NEV industry still needs to overcome many hurdles, the lack of charging piles being a major concern.
"China's inventory of pure electric cars can reach around 64 million. To meet the charging demand, over 63 million new charging piles need to be built over the decade from this year," Chen Qingtai, president of China EV100, an electric vehicle industry think tank, told a forum in 2020.
The government is encouraging both public and private investment in building charging stations. According to the National Energy Administration, there were 1.3 million charging piles countrywide by the end of June 2020, including 558,000 public ones.
The Beijing Municipal Government announced in June 2020 that it would build at least 50,000 new charging piles and around 100 battery-changing stations by 2022. NEV users will also get subsidies for electricity bills in cities such as Shanghai and Hefei in Anhui.
Persistent challenges
To prevent over-expansion in the sector, the Ministry of Finance has pledged this year to improve policies on investment in NEV manufacturing. Starting from January 1, it has cut subsidies for NEVs in fields including public transportation, postal services and logistics and civil aviation airports by 10 percent compared to last year. Subsidies on other NEVs have been cut by 20 percent.
According to Fu, while enterprises can survive competition only through volume production of high-quality products, consumers' expanding demands will continue to drive the sales of NEVs.
"Besides large and medium-sized cities, NEV producers can also explore markets in small cities and rural areas through introducing products with consumer-friendly prices," he added.