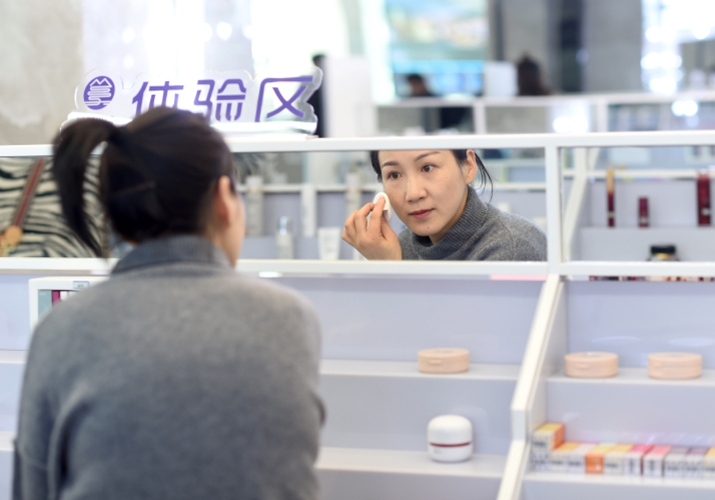 Though wearing a mask has become a way of life in the time of the novel coronavirus disease (COVID-19), beauty-conscious women are not compromising. Behind their masks, they are wearing lipstick and other makeup with determination, a resilience that has nurtured domestic brands and propped international brands that performed dismally elsewhere.
A dynamic market
The Chinese market became the focus of the cosmetics industry in 2020. According to Li Yanfang, a researcher with Beijing-based CCID Consulting, retail sales of cosmetics in China turned positive since April last year, not long after the outbreak of COVID-19. The growth rate surpassed the average level in 2019, 12.6 percent, in both May and June.
The global performance of international cosmetics giants including L'Oreal, Unilever and Estee Lauder saw a dizzy drop in the first three quarters last year, according to their financial statements. In August, Estee Lauder announced it would cut 1,500-2,000 positions worldwide and planned to shut down 10-15 percent of its stores. L'Oreal closed some of its brick-and-mortar stores and laid off 400 employees.
But it was a different story in China. L'Oreal did not reduce its staff but unveiled its first Lancome flagship store in Beijing last October. In the first three quarters of 2020, its sales in China increased by 20.8 percent year on year.
According to the General Administration of Customs of China, imported cosmetics totaled 114.2 billion yuan ($17.7 billion) in the first 10 months of 2020, a year-on-year increase of 28.4 percent, hitting a record high.
Domestic brands have also gained momentum. According to industrial statistics, 13 associated domestic enterprises, including raw material providers, brand owners and retailers, completed stock listing by the end of 2020. Imeik Technology Development, which makes and distributes biomedical products, for instance, went public last September, becoming the largest company in the makeup industrial chain by market value. Yatsen Holding, the parent company of China-based beauty unicorn Perfect Diary, got listed on the New York Stock Exchange last November, the first Chinese cosmetics company trading there.
Apart from their advancement in the capital market, the local brands also showed remarkable results during the annual online shopping carnival Double Eleven on November 11, 2020.
When the pre-festival buying started, Perfect Diary product sales hit 100 million yuan ($15.5 million) in 33 minutes, making it the first makeup brand to cross the number on Tmall, an e-commerce platform of Alibaba, the founder of the festival.
Winona, a brand focused on sensitive skin care, reported a 700-million-yuan ($108.3 million) sale during the carnival, ranking first among domestic cosmetic brands and becoming the only domestic company among the top 10 makeup companies by sales, the other nine being international giants.
Du Zhiyun, head of the Guangdong Cosmetics Association, told 21st Century Business Herald that China lags behind Japan and the Republic of Korea, as well as some European and American countries, in total sales of cosmetics. According to Everbright Securities, the average Chinese consumption is only one seventh of that of major cosmetics markets around the world, indicating a huge potential.
Du said domestic brands are highly capable of replacing some of the foreign brands between 2025 and 2030 if they do well in research and development of new products as well as technological innovation. Statistics from Hua'an Securities and the Boston Consulting Group show that while in 2013 international brands accounted for 50-70 percent of the Chinese market, in 2018 the market share of domestic brands increased to 56 percent.
E-commerce would be an opportunity for these companies to overtake their famous peers. In the age of new retail that integrates online and in-shop experiences, consumers have close contact with local brands and even manufacturers. After they get familiar with domestic products and foster confidence in their quality, opportunities for the brands would arrive, Du said.
Road to branding
Dongguan City Youbi Electronics, established in Dongguan, Guangdong Province in south China, in 2009, used to do contract manufacturing for internationally famous brands.
Since the orders from overseas declined due to COVID-19, Youbi established its own brand last year and has collaborated with Pinduoduo, an e-commerce platform, to market its products at home.
Zhang Qinglin, president of the company, told 21st Century Business Herald that they could earn only a percent of the total profits in the old way. However, once they built their own brand, the profits increased by more than 10 times.
Companies that do not pay attention to brand building can only manufacture with a narrow profit margin, he said, adding that it will not enable them to invest in long-term product development and can't be a sustainable business strategy.
"Cosmetic products are one of the sectors we have highlighted in our new brand awareness program. We have cooperated with major domestic companies to satisfy consumers' diversified demands as well as help these companies expand their market share," Chen Qiu, vice president of Pinduoduo, said in November 2020. "By October 2021, we expect more than 50 percent of the famous domestic cosmetic companies will join our new program."
Zhang said the repurchase rate of Natchiaus, a subsidiary brand under his company, reached 35 percent on Pinduoduo. Seventy percent of its consumers are below 30. He said based on the consumption data from the platform, they are able to innovate products in some subdivisions according to consumers' demand.
Shanghai Jahwa, manufacturer of skin care, cosmetic and chemical products, has seen its sales increase by 20 percent since it started selling online. The company made good use of short videos and live-streaming during the epidemic to ratchet up sales.
Marubi, renowned for its eye care products, invested in a brand marketing and live-streaming company last year, which will promote it on e-commerce platforms like Taobao and Xiaohongshu and short video app Douyin.
"Currently, international makeup brands dominate the physical market. But the online promotion and sales of local brands reduce costs of businesses and help them approach consumers directly," Zhang Yi, chief analyst with iiMedia Research, a data mining and analysis company, told China Business Herald News Weekly.
In addition to online channels, domestic brands including Herborist and Chando have made forays into duty-free stores, which marks a solid step for them to enter the mainstream retail market.
Industry insiders say COVID-19 has had a huge impact on the entire cosmetics industry, both in terms of revenue and the business model. So it's crucial to seize the opportunity after the situation improves. This can be done by resorting to digital marketing that gets an insight into consumer preferences and makes customized strategies.
Besides, it's essential to combine online and offline channels and intensify the capacity to offer products in diverse categories to be able to thrive.