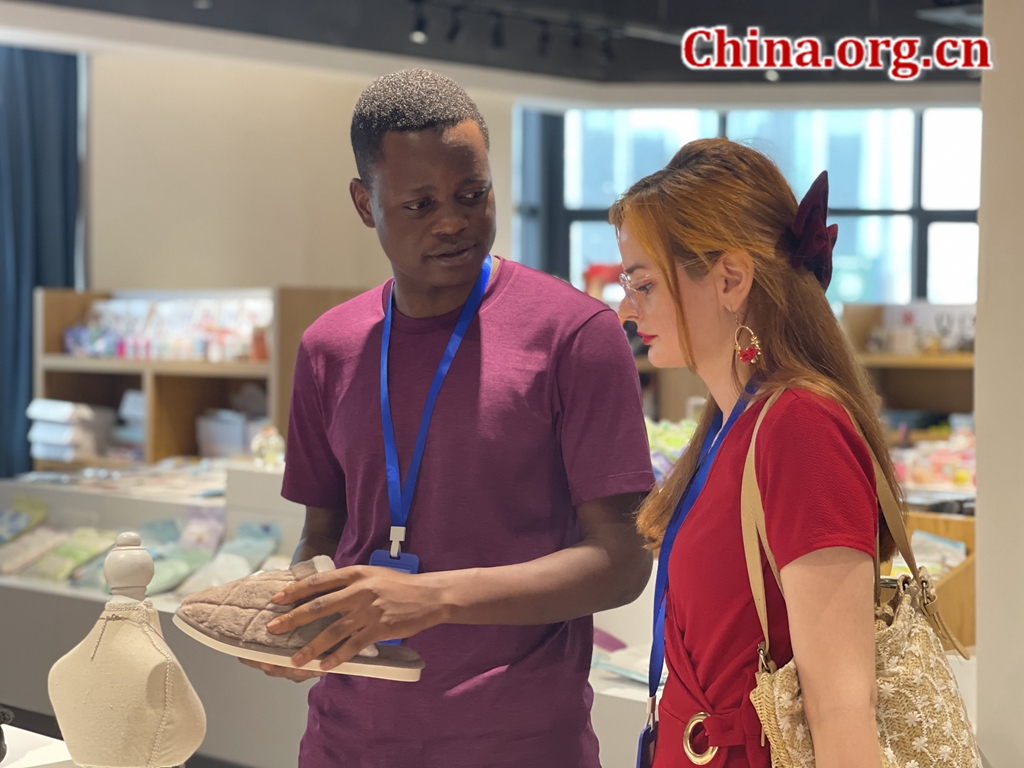 Social media influencers from overseas tried their hands at livestream selling on Monday in Yiwu, Zhejiang province, as part of the "Daka China" global communication event.
After receiving basic training at the Yiwu Live Stream Industrial Park, the internet celebrities chose the products they wanted to promote and paired up to host their maiden livestreaming sales events.
"It's very interesting to interact with the viewers," said Tungamirai Eric Mupona from Zimbabwe. "Livestreaming e-commerce is a new trend. It's very convenient and becoming more popular during the COVID-19 pandemic."
Eric, who is currently a student at Zhejiang University of Science & Technology, said: "I will be proud to bring some products from my country and recommend them to local buyers through livestreaming. We have a lot of good quality products, especially agricultural produce. I'm pretty sure local buyers will like them."
With the theme of "Jinhua, A Golden Hub of BRI," the global communication event invited more than 30 social media influencers from over 20 countries along the Belt and Road to experience the economic and cultural development of Jinhua, an important city in the Belt and Road Initiative (BRI).
Yiwu, a county-level city under Jinhua, is known as the world's largest wholesale market for daily commodities. According to the city's market development committee, around 80,000 people are employed in the livestreaming e-commerce industry in Yiwu, selling 15.4 billion yuan($2.41 billion) in products from January to October last year.
The term "daka" has become popular on Chinese social media over recent years. Originally, the word meant to "punch in," as in the act of using a card to punch in and out of work. Nowadays, it refers to the fashion of internet celebrities taking short, quick trips to popular places and then posting pictures and thoughts on social media to show what they did.
"Daka China" is an international communication series aimed at bringing together foreign social media influencers to present their experiences of China to the world in a comprehensive and multifaceted way.