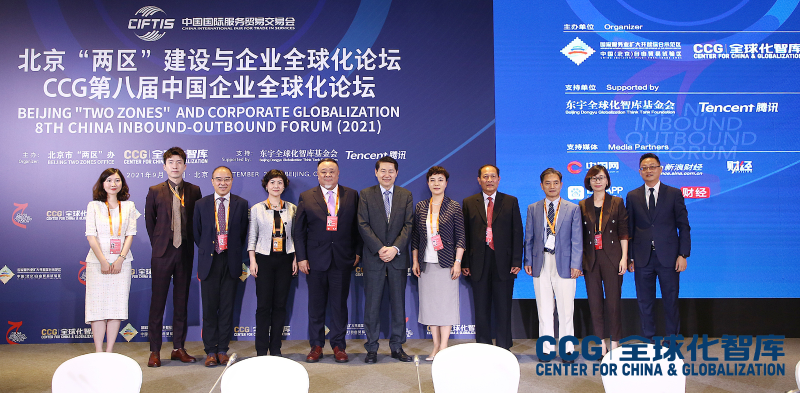 With the continuing severity imposed by COVID-19, such topic as responding to the new needs of global epidemic prevention and construction of a global community of health for all has become important at the 2021 China International Fair for Trade in Services (CIFTIS). At the Beijing "Two Zones" and Corporate Globalization & 8th China Inbound-Outbound Forum which was co-organized by the Center for China and Globalization (CCG) and the Beijing "Two Zones" Office, representatives from government, industry, academia and research institutes held discussions under the theme of "Digital Technologies in Pandemic Control and Healthcare."

Amid the global epidemic, how can countries around the world work together to build a health community to resolve the global crisis, especially to address the huge challenges faced by developing countries in preventing and controlling epidemics? What are the advantages of traditional medicine in coping with epidemics, solving major diseases and sharing better medical resources? What are the new values of digital technology and biotechnology in promoting the trade facilitation of medical and health care, and building a new ecology of health prevention and health care in the world? Experts, including Meng Dongping, Secretary of Party Committee of China Chamber of Commerce for Import & Export of Medicines & Health Products (CCCMHPIE); Yang Yi, CCG Senior Fellow, former Director of the Industrial Injury Investigation Bureau of the Ministry of Commerce; Tom Hsu, CCG Senior Council Member, Global Vice President of VIA-HTC Group; Helen Zhu, Vice President of Sanofi China; Anita Wei, Vice President of Government Affairs, Danaher China; Lu Jinyong, CCG Non-resident Senior Fellow, Director of China Research Center for Foreign Direct Investment (CRCFDI), UIBE; Zhou Bing, Vice President, Government Affairs at Dell Greater China; Kris Liu, Executive Director of Reynold Lemkins Group (Asia) Limited, made remarks at the forum, representing their industries.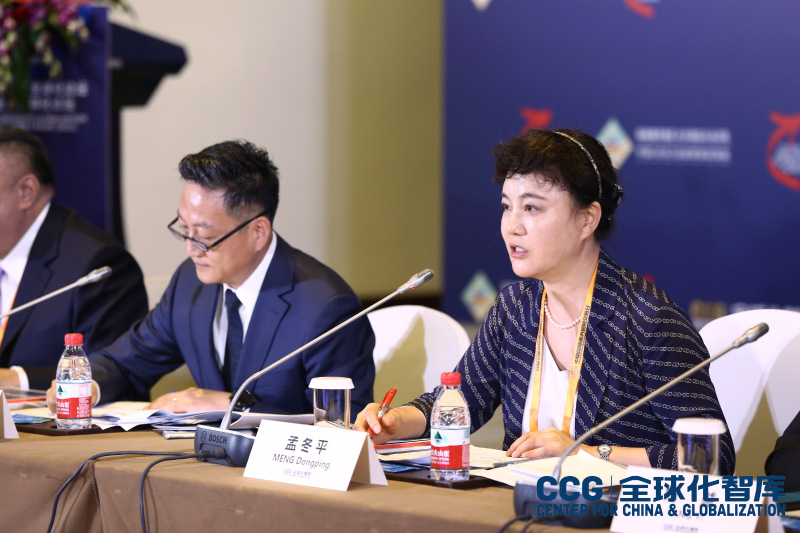 Meng Dongping pointed out in her speech that China's "white list" for the export of anti-epidemic supplies shows the idea of collaboration and inclusive international cooperation, demonstrating China's responsibility as a major power. She stressed that the rampant virus reminds us that the protection of human life and health is of paramount importance, for which we must take coordinated international action to jointly address the crisis brought by the pandemic to both human health and safety, and the world economy. Today, after years of economic globalization, the international economy is highly interdependent among different nations, so if we refuse to join in the international cooperation, serious harm will be predictable to our country and the global economy. Maintaining the continuity and stability of industrial and supply chains, and strengthening cooperation can promote the economic recovery and sustainable development.

Meng Dongping underscored the important role played by traditional Chinese medicine (TCM) in epidemic prevention and control, which created precious opportunity to achieve a boom overseas. She explained that the performance of TCM in epidemic prevention and control has aroused global attention and made more people aware of the special efficacy of TCM in early prevention, disease intervention, dialectical treatment and individual health care.
It is also said that the COVID-19 has given rise to and expanded the demand for digitalization and artificial intelligence applications in the medical field. In the current context where economic transformation, innovation, integration and iteration are the core of development, the industries at home and abroad are competing to follow the trend. At present, domestic applications are mostly reflected in information interoperability, online sales and data collection. The next step should be to increase the application in fields of higher quality such as promoting clinical diagnosis and treatment efficacy. In this context, aiming at going to global, TCM must achieve industrialization, combine its advantages with modern science and technology, strive to overcome such difficulties as conflicting views overseas, cultural differences and diverse quality standards, illustrating to the world the advantages of TCM.
Chun Yuan CHIANG,Co-Chair of "Digital Health Global Initiative Foundation" under framework of UNSDG, CCG Executive Director and Deputy Secretary-General of the Hong Kong Committee, pointed out in his speech that science and technology are the most useful tools for human beings to compete with diseases, with scientific development and technological innovation being indispensable to overcome disasters and pandemics. In the face of sudden attacks of an unknown virus, countries are closely integrating scientific research and clinical treatment to promote prevention and control practices, making full use of new technologies such as big data and artificial intelligence to study and judge epidemic trends, and actively expanding internal and external industrial chains and supply chains with digital platforms. In the post-epidemic era, biotechnology and digital technology are bound to make greater contributions in maintaining regional and global public health security and stabilizing the world economy.
According to Chun Yuan CHIANG, amid COVID-19, digital economy is a key to maintain economic vitality and ensure the smoothness of the industrial chain and supply chain. In recent years, China has been actively promoting digital industrialization and digitization of industries, promoting the deep integration of digital technology with economic and social development, and the rapid development of digital economy. COVID-19 has further accelerated the development of global digital trade, which is expected to promote the construction of a new development pattern. During the period, technology service platforms and knowledge-based service industries showed great resilience and thus flourished. Digital technology had a great impact on service industries such as service trade, retail, healthcare and education.
He pointed out that the COVID-19 is the most serious global public health emergency since the end of World War II, posing a huge threat to human life. The global health technology industry needs to make full use of new technologies such as digital technology, big data and artificial intelligence, build digital and standardized technical standards and service specifications, and actively expand internal and external industry chains and supply chains with the help of digital platforms. In the post-epidemic era, biotechnology and digital technology should make greater contributions in maintaining regional and world public health security and stabilizing the world economy.
Traditional medicine is a great creation of people all over the world, and has made great contributions to human development and has shown its unique advantages and great role in epidemic prevention and control. It is worth mentioning that TCM, represented by the three drugs and three prescriptions, is clinically effective in the fight against coronavirus, effectively reducing the incidence rate, progression-to-severity rate and death rate, improving the cure rate and speeding up the recovery period. Based on this, we should increase the training of traditional medicine talents and encourage the innovative development of traditional medicine; develop the standard system of traditional medicine to quantify the symptoms and medication indicators; promote the culture of traditional medicine to improve the public's recognition; improve the overseas service trade system and strengthen the protection of intellectual property rights, so as to promote the rapid and sustainable development of the whole industrial chain of traditional medicine.
Traditional medicine, represented by TCM, has shown unique advantages and played a great role in fighting epidemic, which is an important opportunity for traditional medicine to participate in building a global health community. According to Chun Yuan CHIANG, the internationalization path of Chinese medicine industry should be built on the basis of modernization of Chinese medicine production. To promote the modernization, digitalization, standardization and internationalization of traditional medicine in the era of digital economy, there is an urgent need to develop an international standard system for traditional medicine, and to use advanced biological and information technology to promote the rapid and high-quality sustainable development of the whole industrial chain of traditional medicine.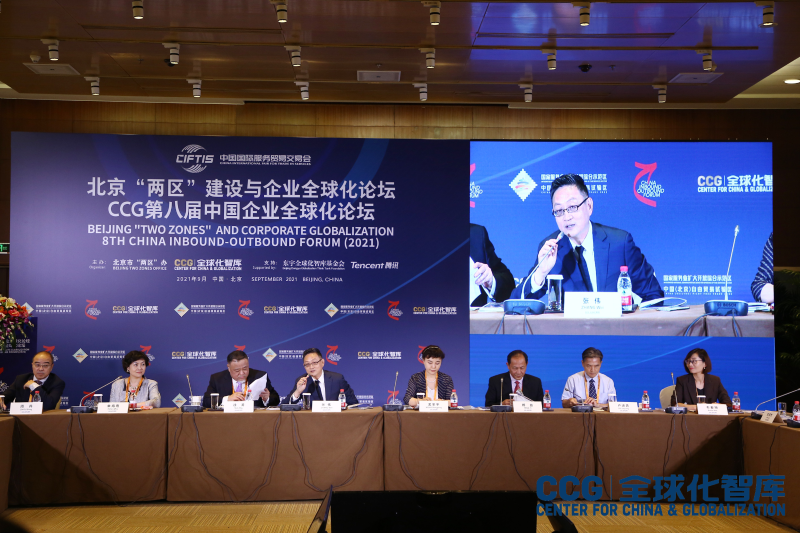 The sub-forum on "Digital Technologies in Pandemic Control and Healthcare" of Beijing's construction of "two zones" and corporate globalization was chaired by Zhang Wei, Deputy Secretary General of CCG. In his concluding remarks, he pointed out that the COVID-19 is the most serious global public health emergency since the end of World War II, posing a great threat to human life, and developing countries are facing greater challenges in epidemic prevention and control. Viruses know no borders and epidemics know no race. In the face of the virus sweeping the world, no country can survive alone.

The epidemic has revealed that it is not feasible to protect the self-interest of the country alone, but to promote the common interests of the international community; it is not enough to focus on immediate problems merely, but to cultivate a strategic vision and a long-term perspective. Countries should act urgently and better unite to strengthen cooperation across the board to jointly fight the epidemic and overcome the difficulties together.
According to Zhang Wei, global trade in services is growing faster than trade in goods, and services are becoming more important in creating added value in goods manufacturing. This trend will continue to be an important driving factor for global trade growth in the post-epidemic era. At the same time, the changing global geopolitical and technological environment is reshaping the way global digital trade is developed, and digitization will become a core competency for Chinese companies in global trade. However, World Trade Organization members have not yet agreed on global digital trade rules at present, and Chinese enterprises, including the traditional pharmaceutical industry, should play an important role in supporting and leading the establishment of trade rules, industrial norms, technical standards, and intellectual property protection, in order to promote the free flow of goods and services, and the green and sustainable development of global trade.