The 7th Ultra-Broadband Forum (UBBF 2021) opened in Dubai, the United Arab Emirates (UAE), on Oct. 19.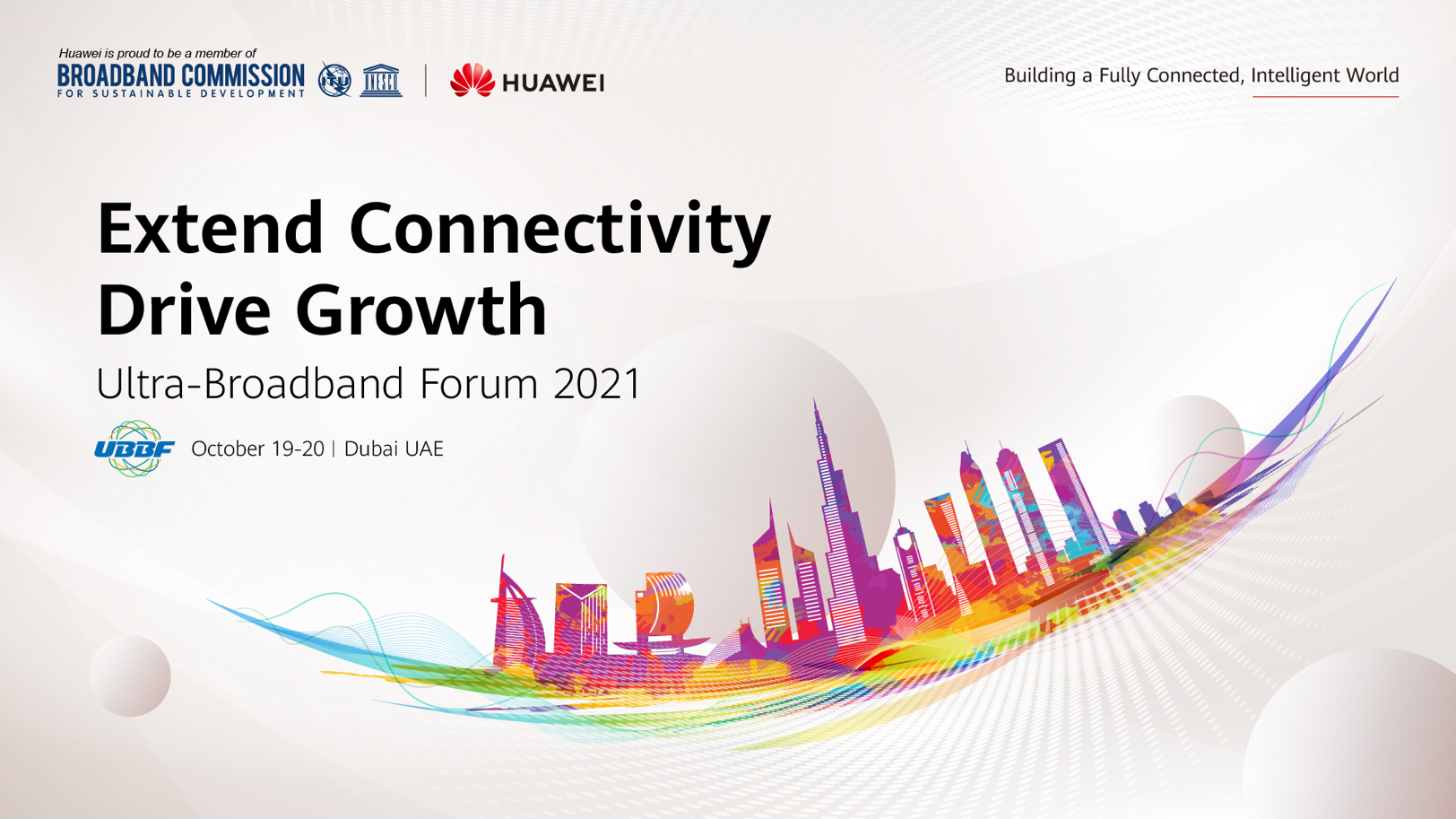 The two-day event focused on the theme of "Extend Connectivity, Drive Growth," and was co-hosted by the UN Broadband Commission and China's tech giant Huawei. It brought together leading global operators and industry partners throughout the industry chain to discuss building a sustainable ecosystem for the ultra-broadband industry.
At the world's largest summit in the fixed network field, Huawei executives shared insights on the role of connectivity, how to extend connectivity boundaries, as well as opening up new spaces for the industry to achieve new business growth.
Ryan Ding, Huawei's executive director of the board and president of the Carrier Business Group, noted that connectivity is changing people's lives, accelerating the development of industries, and changing the future.
"More than 170 years ago, the world's first submarine cable was laid, sending the first communication signals across the ocean. About 20 years ago, connection speeds exceeded 32 Kbps, and video began to surpass text as the major form of traffic, allowing us to communicate like never before," said Ding. "When the pandemic hit the world in 2020, connectivity once again reshaped how we live and work."
Moreover, connectivity is driving industrial development, Ding noted. He cited examples on manufacturers and coal mines using connectivity to increase productivity and enhance safety, adding that "where there is connectivity, there is innovation."
"Connectivity is changing the future, and presents unlimited possibilities," he said.
"2021 opens a new chapter for connectivity. Despite the challenges caused by the pandemic, we are still moving forward." Ding called for all industry partners to work together, discuss how to create a connected world and make the world a better place.
At the forum, Peng Song, Huawei's president of Global Carrier Marketing & Solution Sales, delivered a speech titled "Extend Connectivity, Drive Growth." He explained Huawei's C.A.F. (Coverage-Architecture-Fusion) model, and called for operators to build network competitiveness based on the C.A.F. model.
"The past year has been full of both challenges and opportunities," Peng said, noting that the demands for connectivity are undergoing tremendous changes for both homes and enterprises.
Homes have become centers for education, work, and trade, whereas enterprises no longer just focus on bandwidth for connectivity, but are also changing from a communication technology (CT) to an operational technology (OT).
Digitalization is the biggest opportunity for the ICT industry. Undoubtedly, the cloud is at the core of digitalization, but connectivity also plays a key role. According to Peng, enterprises must quickly migrate to multiple clouds, so connectivity needs to be cloud-centric and converge with cloud.
Peng emphasized that Huawei's continuous efforts in exploring new technologies have strengthened the foundation of network architecture.
Peng highlighted that there are huge opportunities for connectivity and that the C.A.F. model is the key for operators to help accelerate the digitalization of industries, maximize the value of connectivity, and achieve new growth.
"Actions are fruits, while words are but leaves." Peng said when explaining the company is continuing to focus on innovation in connectivity technologies and support customers to achieve business success both now and in the future.