On the opening day of the 4th China International Import Expo (CIIE), Pfizer Biopharmaceuticals Group demonstrated its new corporate image, while its headquarters announced a promising new COVID-19 antiviral drug, PAXLOVID.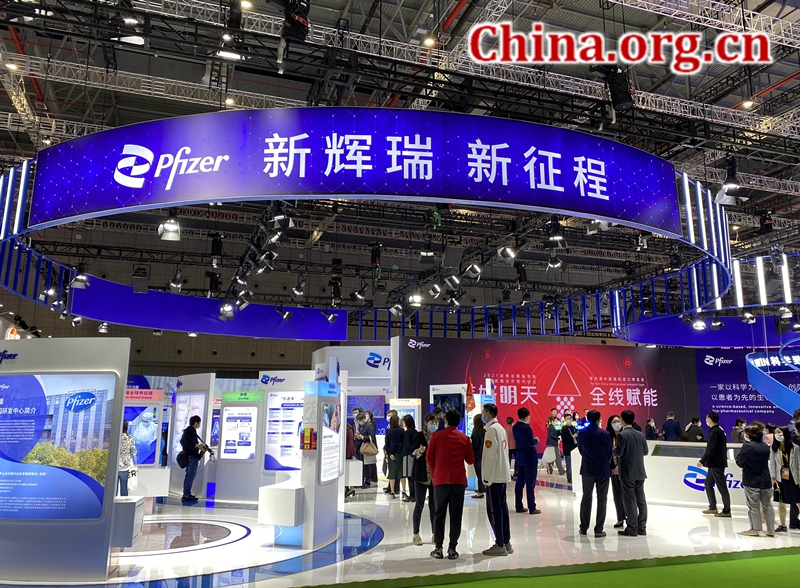 Pfizer held a grand opening ceremony on Nov. 5 with the theme of "New Pfizer, New Journey." They made a formal announcement that Pfizer China will start a new journey with fresh ideas, branding, corporate structure, and products and contribute to the Healthy China initiative with innovation, partnership, and commitment.
"Participating in the 4th CIIE marks another important milestone for Pfizer," said Jean-Christophe Pointeau, the newly appointed president of Pfizer China.
As a third-time exhibitor at the expo, Pfizer expanded its booth area to 800 square meters, making it one of the largest booths among all exhibitors. Its booths are full of highlights, showcasing products and medical solutions across five areas: oncology, vaccines, anti-infectives, inflammation & immunology, and rare diseases. Most of them are world-leading breakthroughs and innovations making their debut in China and Asia.
Except for product display, Pfizer also set up a "Healthy Life" immersive experience area in the "Public Health and Epidemic Prevention" special zone this year to restore critical health scenarios and create an innovative and healthy life ecosystem featuring maternal health and child vaccination. During the expo, Pfizer will also host multiple summit forums and roundtable forums regarding oncology and infection, to promote the innovation and development of the industry.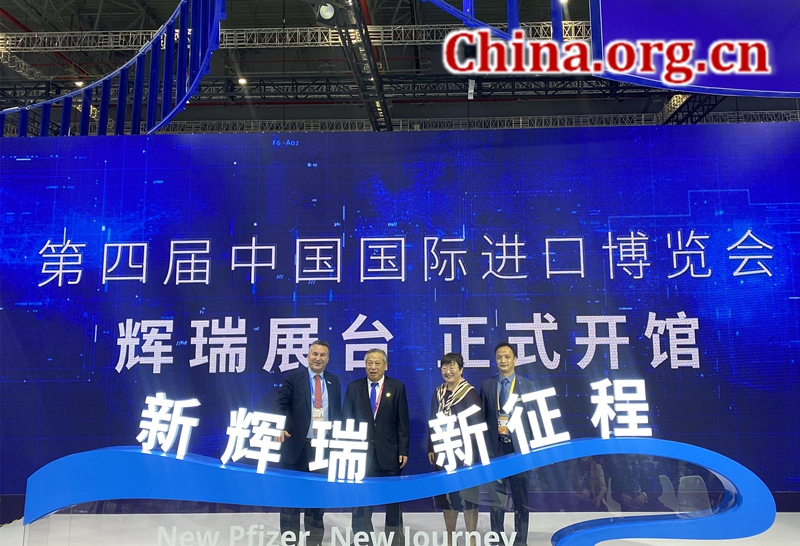 Jean-Christophe Pointeau stressed, "China is the second-largest market in the world and one of the most important markets for Pfizer. The Chinese market is still booming, and the business environment is also improving. Therefore, we hope to conduct extensive exchanges and cooperation with all walks of life through CIIE, a global trade exchange platform, to make contributions to promoting the world's economic recovery and boosting the realization of Healthy China 2030 and the Vision 2035."
Also on Nov. 5, Pfizer Inc. said that the experimental antiviral pill, PAXLOVID, significantly reduces hospitalization and death, based on an interim analysis of phase 2/3, a randomized, double-blind study of non-hospitalized adult patients with COVID-19. The scheduled interim analysis showed an 89% reduction in risk of COVID-19-related hospitalization or death among adult COVID-19 patients who are at high risk of progressing to severe illness.
Pfizer plans to submit the data as part of its ongoing rolling submission to the U.S. Food and Drug Administration (FDA) for Emergency Use Authorization (EUA) as soon as possible. If approved or authorized, PAXLOVID would be the first oral antiviral of its kind. It could be prescribed more broadly as an at-home treatment to help reduce illness severity, hospitalizations, and deaths and reduce the probability of infection following exposure among adults.