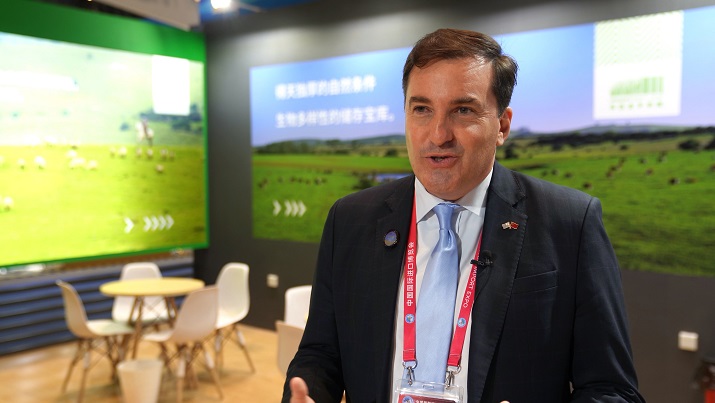 The Fourth China International Import Expo (CIIE) is currently taking place in Shanghai during November 5-10. As trading partners, China and Uruguay share a number of common interests and have developed close ties. Uruguayan companies see the CIIE as a key platform for entering the Chinese market.
Uruguayan Ambassador to China, Fernando Lugris shared his views on the current state of the Chinese market, and on China-Uruguay economic and trade cooperation, in an interview with Beijing Review reporter Li Xiaoyang. The following is an edited excerpt of his remarks:
Beijing Review: How do you view President Xi Jinping's speech at the 2021 CIIE opening ceremony?
Fernando Lugris: The CIIE has been an important event. Chinese President Xi Jinping's speech at the opening ceremony shows China's commitment to sustainable development and the determination to continue reform and opening up, and promoting free trade. At this year's CIIE, China is celebrating the 20th anniversary of its accession to the World Trade Organization. By joining this multilateral trading system, China has changed the way that it trades with the world. This has made an incredible impact on the sustainable development and social development of the country, and contributed to driving global trade, especially for countries that have developed close relations with China.
What are the ways the expo can help Uruguayan companies tap into China's market potential? From the perspective of Uruguayan companies, what steps can China take to further improve bilateral trade?
China is Uruguay's No.1 trading partner, and we are sending more than 30 percent of our total exports into the immense Chinese market. Uruguay has been participating in the expo since 2018. Over the past expos, we have promoted our meat products and have seen rising exports of lamb and beef to China each year.
Uruguay exports healthy food all over the world, but mainly to China. As of November this year, 80 percent of the lamb and 60 percent of the beef Uruguay exports go to China. Uruguay has become China's third largest supplier of milk powder, and is ranked among the top four suppliers of soybeans to the Chinese market. We are willing to contribute to food safety of China, with our producers of fruits, wines, olive oil and many other products all seeking to explore the large Chinese market. The COVID-19 pandemic has affected the movement of Uruguayan exports though international ports, and we are looking forward to a post-pandemic scenario of more active cooperation with China.
Trade between Uruguay and China has so far grown in a healthy manner, and Uruguay aims not only at boosting existing cooperation, but also promoting its trade services. For example, Uruguayan software companies are currently looking for niches to enter the Chinese market.
What are the attitudes of the Uruguayan Government, businesses and the public towards Chinese investment?
Uruguay welcomes Chinese companies to make investments. Our agricultural sector has already attracted investment from Chinese enterprises in fields including soybean exports. We hope to see more investment in logistics and infrastructure. The IT sector is booming in Uruguay, and major Uruguayan IT companies like DLocal, and GeneXus are already entering China and expanding business in the Chinese market. We have also seen investment from China's hi-tech enterprises such as Huawei and ZTE in Uruguay.
The cooperation still has more room of growth, as the service sector is one of the industries that can be further developed. Since Uruguay has a strong voice in the digital economy, China-Uruguay cooperation in this respect shows great potential.
Uruguay is participating the Belt and Road Initiative (BRI). How do you view the role of the initiative, and how can China and Uruguay further strengthen their economic ties?
Uruguay was the first country of the Latin American and Caribbean States that expressed its willingness to participate in the BRI. As an agricultural exporter, we want to be an efficient provider of healthy food to the Chinese market. For the market of countries along the route, Uruguay has also played a role as a Belt and Road logistics hub for other countries in South America. Chinese companies are able to use Uruguay's free trade zones and transport infrastructure to enhance their presence in other South American countries.
Uruguay is rapidly increasing its use of renewable energy and China has also set its own goals of peaking carbon dioxide emission and reaching carbon neutrality. How can China and Uruguay expand their cooperation on green development?
Uruguay has undergone a real revolution in the last decade and is now No.2 in the world for clean energy usage. We are ranking only after Denmark, with almost 98 percent of our energy coming from clean sources. Uruguay used to be an importer of not-so-clean energy. Now it has become an exporter of clean energy to neighboring countries. Uruguay hopes to boost investment in green hydrogen, and to provide new green hydrogen technology to other markets. As China is also working hard to transition to the use of clean energy, we are open to cooperation that results in more production of clean energy for China. From the other side, solar panels produced in China have arrived in Uruguay at a reasonable price. Providing these kinds of technologies at reasonable prices helps drive clean energy use in developing countries such as Uruguay.