Bank of China helped facilitate partnerships between various domestic and foreign companies during a matchmaking event at the ongoing 4th China International Import Expo (CIIE).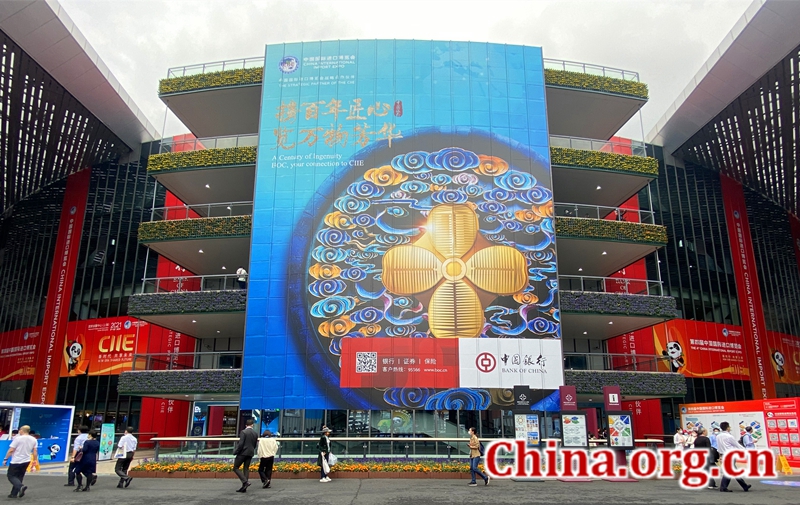 One minute after the Trade and Investment Matchmaking Conference began Nov. 6, Shanghai Nanda Group, a designer, manufacturer and exporter specializing in cable and wire products worldwide, agreed to sign a deal with Australia's SinaPrise, marking the first big partnership of the event, with an intended worth of some $100 million, the Shanghai branch of Bank of China told China.org.cn.
Meng Yanmin, manager of Shanghai Nanda Group's investment department, said there's nothing that set her company apart from all the other enterprises and giants that joined the conference, and that she was initially anxious. She arrived at the event early and struck up a conversation with a SinaPrise representative before the event had even kicked off. Shortly thereafter, the two companies saw the value in each other, and the deal was signed relatively quickly – with help from Bank of China service staff who spent months sorting and matching potential partners.
Besides onsite meetings and negotiations, the Bank of China – which served as the event's organizer – also arranged 100 "cloud meetings" to help domestic and foreign companies find suitable collaborators.
Bank of China is the sole strategic partner of the CIIE and provides various financial services and helps bring in merchants and investors. Bank of China has developed a global corporate ecosystem, where international companies can enjoy efficient and open trade and investment matching services, effectively enhancing the CIIE's impact.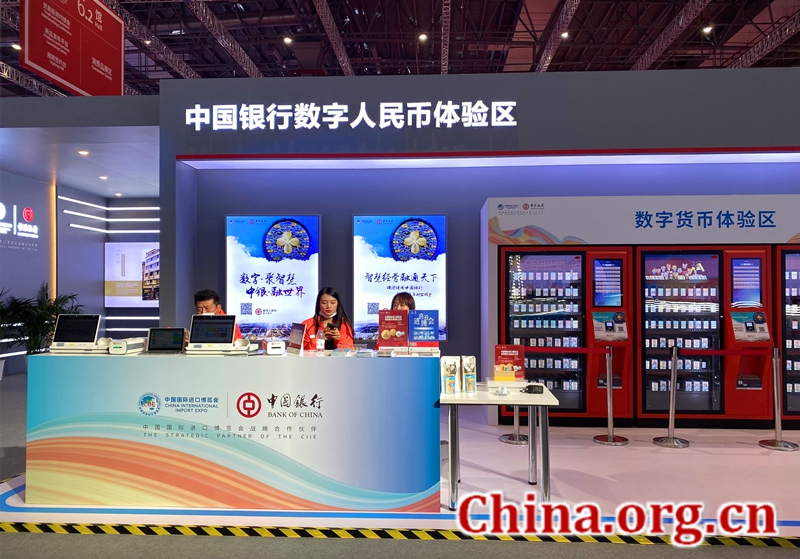 Also at the CIIE, the e-CNY, China's innovative digital fiat currency issued by the People's Bank of China (PBOC), is being used at restaurants, booths, and vending machines for the first time. Bank of China has set up six booths throughout the CIIE venue to help those who want to apply for a digital yuan wallet. The CIIE has attracted nearly 3,000 companies from 127 countries and regions this year, with representatives of these businesses and other attendees able to use the digital yuan when paying for food or purchasing souvenirs at the expo.
In some stores and restaurants, consumers can get discounts when paying with the e-CNY. Additionally, there are activities for old residents and foreigners to experience using e-CNY or making foreign currency exchanges to e-CNY in easier ways.
"Inclusive finance, and the development for convenience for the people, are the original aspirations of the financial industry and the direction of the Bank of China's efforts," said a representative in charge of the Shanghai branch of Bank of China.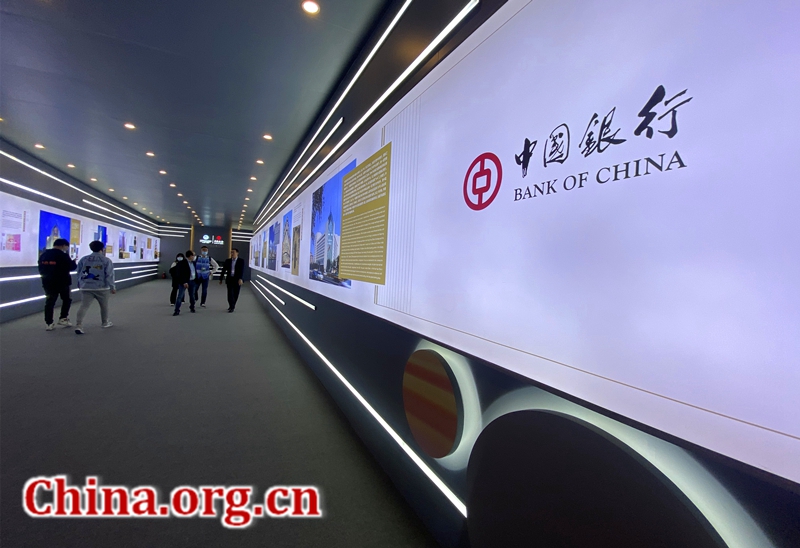 According to statistics, during the past three CIIE editions, the Bank of China has brought together a total of nearly 10,000 companies to carry out negotiations and reached 4,200 cooperation intentions. Preliminary statistics show that this year, more than 800 exhibitors and more than 2,200 purchasers would conduct online and offline trade and investment matching.
Currently, the Bank of China has set up nearly 600 overseas branches in 62 countries and regions around the world, including 25 countries along the Belt and Road. Its international settlement volume and cross-border renminbi settlement volume rank first in the industry, and it is a main channel and service bank for domestic import and export trade settlements.