The metaverse has become a buzzword recently, as everyone from tech giants to start-ups races to plant their flags in the virtual space. And of course, the situation is no different in China.
For instance, China's social media giant Tencent has significant investment stakes in Roblox and Epic Games; internet titan Baidu launched a metaverse app called "Xirang" – or "Land of Hope" – allowing users to create avatars and explore virtual environments; TikTok parent company ByteDance acquired Chinese virtual reality hardware startup Pico; e-commerce giant Alibaba built its XR laboratory to research human-computer interactions.
Aside from those big firms, however, by Nov. 30 more than 7,000 trademark applications related to the metaverse had been filed by various companies that are betting on the future of the industry, with a majority of them applying in the recent quarter. All of these moves suggest that many Chinese companies want to be at the forefront of any trend that may underpin the next internet revolution.
Investment is flooding into the metaverse sector as well. Numerous companies have released announcements claiming to have developed hardware and software related to the virtual world, which sent their stock prices to new heights.
The main reason that the metaverse is currently favored by the capital is that some of the technologies required to construct the metaverse world are sufficiently developed at this point, said Li Zheng, a researcher at the think tank China Institutes of Contemporary International Relations (CICIR) in a recent interview with China.org.cn.
"The market sees the new vistas of possibility. These technologies may be combined and merged to shape a new digital world, which could have a fundamental impact on the existing digital life," he said, noting that the market then believes that all technologies related to this possibility, or all related existing patents, intellectual property rights, and other assets will be revalued.
For instance, Bloomberg Intelligence estimates that the global market size for the metaverse could reach $800 billion by 2024, and the PwC says that the market opportunity could exceed $1.5 trillion by 2030.
How might it evolve in China?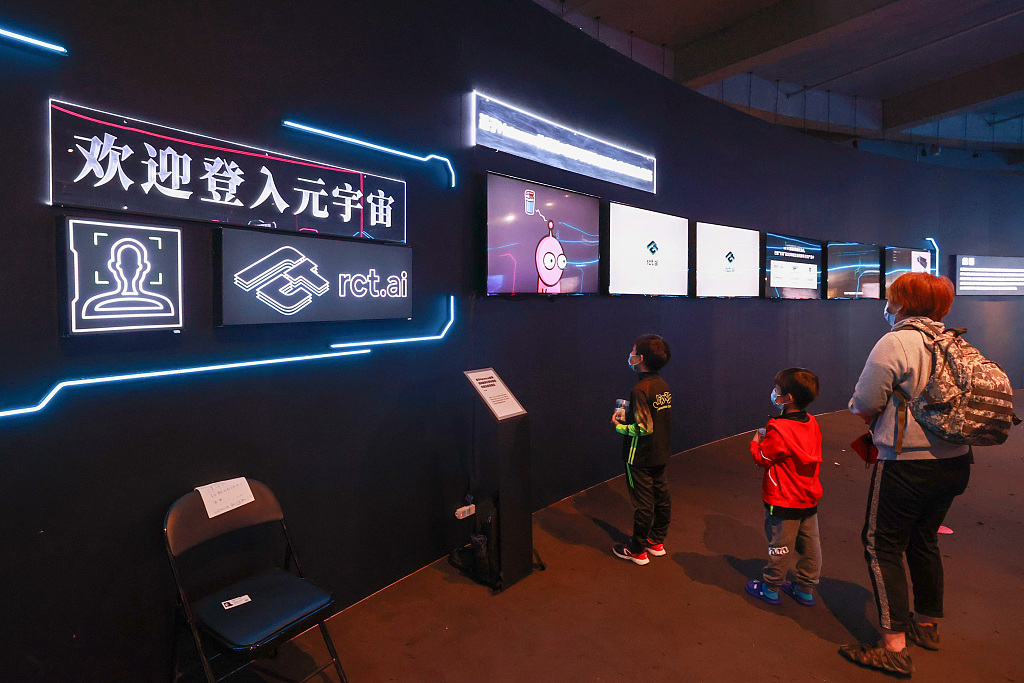 "Based on the current situation, China has already got a head start in building metaverse related industries. For example, China's digital economy is highly developed, with advanced digital payment technologies and popular digital consumption," said Li Zheng.
Last year, mobile payments in China increased by 25%, with a penetration rate of 86%, according to a speech by China's central bank governor Yi Gang in early November.
Addressing the central bank digital currency, Yi said that the People's Bank of China began studying the digital fiat currency in 2014 and as of Oct. 8, pilot scenarios of e-CNY had exceeded 3.5 million, while more than 123 million personal wallets have been opened and transaction volume totaled 56 billion yuan.
Technologies that make up the metaverse, as stated in Tsinghua University's 2020-2021 Metaverse Development Research Report, also include 5G and artificial intelligence (AI), as well as virtual and augmented reality. China has some advantages in these fields and has detailed plans to steadily advance them.
To date, China has built more than 1.15 million 5G base stations, accounting for more than 70% of the world's totals, and 5G network coverage has been achieved in the urban areas of all prefecture-level cities, 97% of rural counties and 40% of rural towns, according to a press conference held by the Ministry of Industry and Information Technology on Nov. 16.
The country's 14th Five-Year Plan (2021-2025) dedicates the fifth chapter to the topic of building a "digital China," which is aimed specifically at advancing seven core industries – cloud computing, big data, internet of things, industrial internet, blockchain, artificial intelligence, and virtual and augmented reality – and ten areas where such smart technologies should be applied, including transportation, manufacturing, education, medicine, and government.
A concept in its nascent stage
Although the prospects of a metaverse are attractive and China currently enjoys an edge in certain technological arenas, some experts think that the metaverse is still in its infancy and there is a long way to go.
Shen Yang, a professor at Tsinghua University's School of Journalism, believes that metaverse industries are in a nascent stage with a lot of uncertainties, meaning the industry and market need to be more rational.
Li Zheng said that the metaverse is only a concept for now, and the rollout of its virtual world is unclear.
"There is a huge gap between the existing technologies and the realization of the metaverse functions," Li said.
"Urban-rural digital divide still exists in China, and digital technology now plays a limited role in stimulating other industries except for consumption and entertainment.
"It remains to be seen whether such a concept of metaverse will adapt to the demands of the new round of transformation of a digital China and navigate the future of digital economy upgrading," Li added.
Concerning the enormous hype surrounding the metaverse, Li said that the concept itself is naturally related to consumer culture, so it's easy to be exploited by some marketers.
"It's a bit early to talk about regulatory framework but it is necessary to supervise behaviors that leverage the concept of metaverse to engage in illegal actions and irregularities, such as the virtual currency scam that has happened before," Li warned.
What's more, in a CICIR report released last month, Li and his fellow researchers called for regulations and guidance from the government, as well as measures for avoiding potential risks in national security.
Cooperation and communication across the globe are needed to guide this emerging field to develop in a sound and orderly way, the report said.