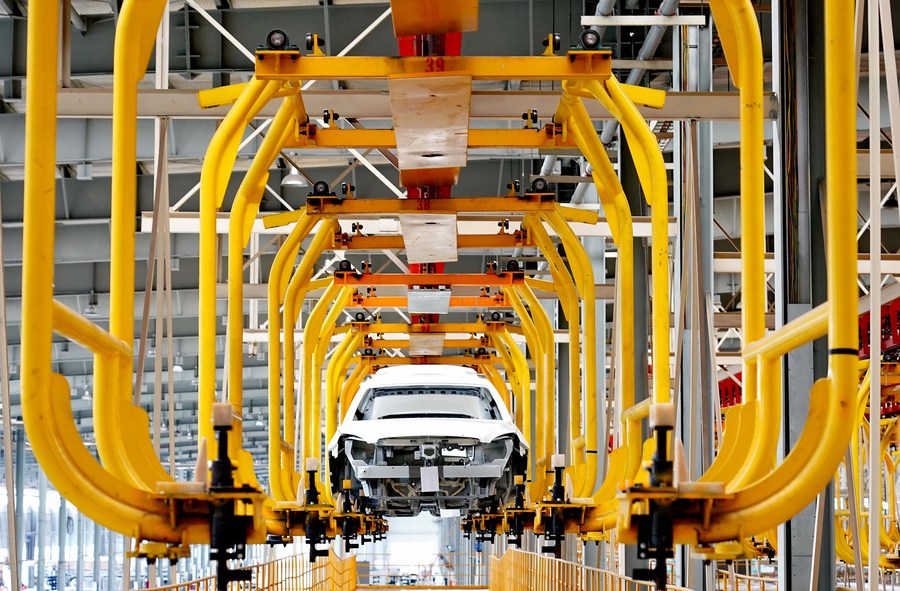 China will roll out pro-growth measures early to stabilize the economy next year and stay cautious about launching any contradictory policies, a senior official said on Saturday.
Han Wenxiu, an official with the Central Committee for Financial and Economic Affairs, said authorities and local governments should shoulder the responsibility of stabilizing the macroeconomy, actively roll out policies conducive to economic stability, and be cautious about unveiling those that may force economic contraction.
Policy supports should be implemented early as appropriate to help the economy make a steady start of 2022 with positive developments, he said.
He was speaking after the Central Economic Work Conference concluded on Friday and mapped out priorities for next year's economic work.
According to Han, the word "stability" was the most prominent key word of the conference, adding that macro policy should play an effective role in countering economic downward pressure, ensure fiscal expenditure intensity, and accelerate the spending progress.
Specifically, the country will properly conduct infrastructure construction in advance and ramp up spending in areas such as pollution alleviation, carbon emission reduction, new energies, new technologies and new industrial clusters, which will expand short-term demand and bolster long-term development, Han said.
Also, the government will extend the policies supportive of small and micro businesses and sole proprietorships if appropriate and increase the additional tax deductions of research and development expenditure by technological small and medium-sized enterprises, he said.
Han made the remarks when addressing the annual conference on the Chinese economy, held by the China Center for International Economic Exchanges on Saturday.
While China's economy has met pressures on the fronts of demand, supply and expectations, it has achieved a good performance this year with high growth, low inflation and stable employment. Its solid fundamentals have remained unchanged, Han said.
According to him, some institutions and experts have forecast that the country's GDP may exceed 110 trillion yuan ($17.3 trillion) in 2021, up about 8 percent from the previous year. Per capita GDP this year is expected to exceed $12,000, close to the threshold of high-income countries set by the World Bank.
The newly-added employment in urban areas may come in at more than 12 million and the surveyed urban jobless rate may stand at around 5 percent for the full year, Han said, adding that the consumer price index, a main gauge of inflation, may grow by less than 1 percent year-on-year this year.