A roundtable meeting was held in Fuzhou on Friday to pool insights into the new investment trends in the digital economy.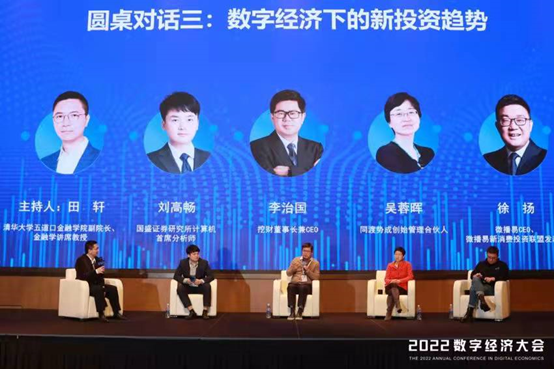 The roundtable was part of the 2022 Annual Conference in Digital Economics hosted by the Institute for Fintech Research of Tsinghua University.
Liu Gaochang, a chief computer industry analyst with the Research Institute of Guosheng Securities, noted that China's 14th Five-Year Plan (2021-2025) and the Long-Range Objectives Through the Year 2035 proposed the digital transformation of industries and finding industrial applications for digital innovations. In his opinion, cloud computing and artificial intelligence (AI) were both promising investment opportunities in the medium and long term.
Wu Ronghui, founding and managing partner of the venture capital firm Tendence Capital (Beijing) Co., Ltd., emphasized infrastructure construction as being an essential part of the digital economy, including computing chips and potent processing capability.
Wu added that demand for the industrial internet, digital healthcare, and the security of data and algorithms would rise and attract investments. "In the future, medical diagnoses based on AI algorithms may be as accurate as a veteran doctor, which will greatly improve the medical level and efficiency."
Xu Yang, the CEO of Weiboyi, a platform offering advertising content for micro-blogging sites, focused on online shopping and e-commerce live streaming, and suggested transforming traditional enterprises. Furthermore, he called for equipping startups to help them deal with new consumption models in the digital age.
The guests also discussed what should be considered in terms of investment. Liu Gaochang thought that investors should consider an industry's life cycle, predict its potential competitiveness, assess the demand, and form a capable team, instead of jumping on the bandwagon on a whim.
Wu Ronghui underscored the importance of personnel for digital economy investment. She believed that excellent talents and teams are needed to develop effective technologies and then apply them.
Li Zhiguo, CEO of an online personal financial management platform Wacai.com, pointed out investment requires sufficient funds, and efforts should be made to guide the public to invest in the new industries of the digital economy.