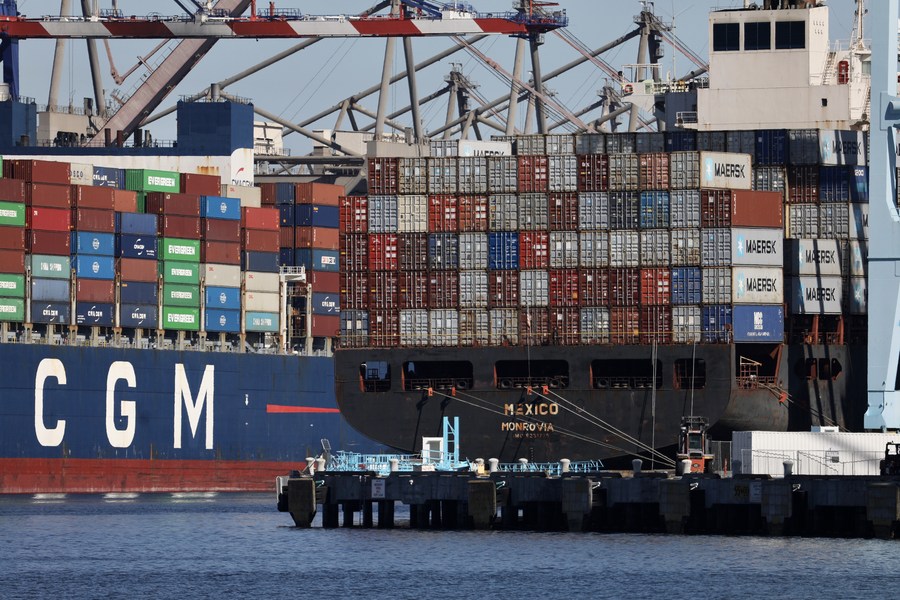 U.S. trade deficit in both goods and services rose to a record 859.1 billion U.S. dollars in 2021 as imports surged, the U.S. Commerce Department reported on Tuesday.
U.S. imports rose by 20.5 percent to 3.39 trillion dollars in 2021 while exports climbed by 18.5 percent to 2.53 trillion dollars, according to the department.
The trade gap represented 3.7 percent of U.S. gross domestic product in 2021, up from 3.2 percent in 2020.
"A surge in imports to fuel domestic demand for goods caused the trade deficit in goods & services to widen 27% last year and reach its largest annual deficit on record," Tim Quinlan and Shannon Seery, economists at Wells Fargo Securities, said Tuesday in a note.
"As the economy faces its third year with the virus, we expect to see a further widening in the deficit this year. The need to replenish inventory in the United States will keep imports strong even as domestic demand transitions back to services," the economists said, adding more volatile growth in exports will result in trade being a drag on U.S. economic growth in each quarter of the year.
"Eventually as domestic demand begins to slow and the global recovery continues, we expect trade to become more of a neutral force on headline growth next year," they said.
The U.S. economy grew 5.7 percent in 2021, partly due to the massive fiscal and monetary support, following a pandemic-induced contraction of 3.4 percent in 2020, according to the department.
Analysts said rising inflation also played a role in the surge of U.S. imports as American consumers paid higher prices. The U.S. consumer price index rose 7 percent in December from a year earlier, the largest 12-month increase since June 1982.