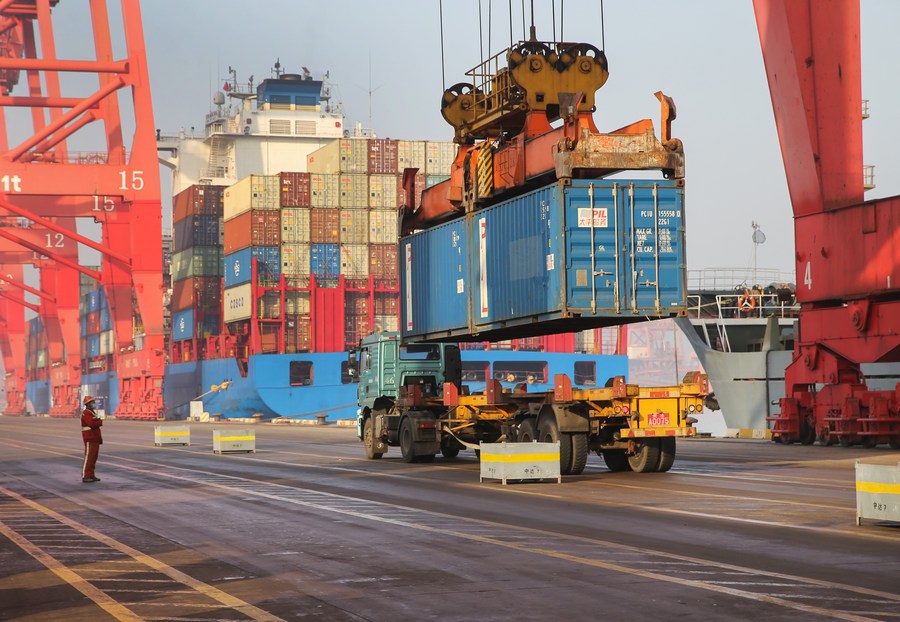 China's foreign trade sustained growth momentum in the first two months of the year amid unchanged fundamentals for long-term growth.
In the January-February period, China's total imports and exports expanded 13.3 percent year on year to 6.2 trillion yuan, official data showed Monday.
Both exports and imports continued double-digit growth during the period, surging 13.6 percent and 12.9 percent from the same period of last year, respectively, according to the General Administration of Customs (GAC).
In U.S. dollar terms, total trade came in at 973.45 billion U.S. dollars during the period, up 15.9 percent year on year, the data showed.
"Despite growing external uncertainties and complexities, China's foreign trade got off to a stable start," said GAC official Li Kuiwen, attributing this impressive start to the strong resilience of the Chinese economy and measures to stabilize growth.
Trade surplus increased 19.5 percent year on year to 115.95 billion U.S. dollars during the same period.
In terms of goods types, exports of mechanical and electrical products expanded by 9.9 percent to account for 58.3 percent of the total, while labor-intensive products increased 8.9 percent in the first two months, GAC data showed.
The country's imports and exports with its top three trading partners -- the European Union, ASEAN and the United States -- gained 12.4 percent, 10.5 percent and 9.7 percent, respectively, in the first two months.
Meanwhile, China's imports and exports with Belt and Road countries combined went up 18.3 percent year on year to 1.92 trillion yuan, GAC data showed.
Zhang Yu, chief macro analyst with Hua Chuang Securities, said considerable demand from overseas has bolstered China's exports, and demand is likely to recover further as the manufacturing sentiment in developed economies remains high and epidemic prevention measures overseas continue to be relaxed.
With the implementation of policies to stabilize growth, the production side may see slight improvements in the future, which would further promote import growth, noted Dong Qi, chief macro analyst at Guotai Junan Securities.
In February, the purchasing managers' index for China's manufacturing sector came in better than expected at 50.2. The new order sub-index also returned to the expansion area by rising to 50.7, indicating increasing demand in the manufacturing market, official data showed.