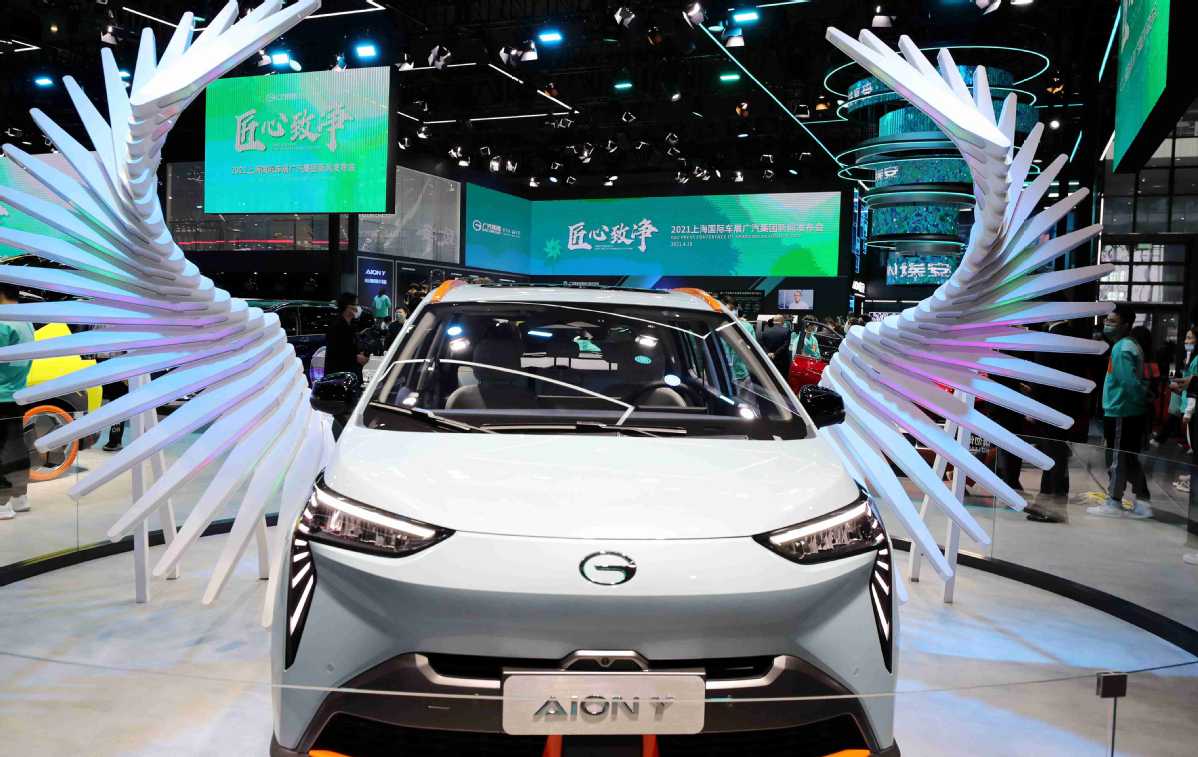 New energy vehicle companies in Guangdong province, an important industrial center, have reported robust surges in sales of the vehicles since the beginning of 2022.
BYD, one of China's leading NEV manufacturers, based in Shenzhen, saw sales of its vehicles, including electric vehicles and plug-in hybrids, surge 367.6 percent year-on-year to 92,926 units in January. The company has strengthened its position in the industry, selling nearly 600,000 NEVs in 2021.
"Proprietary technologies in processing platforms, exterior and interior designs, motors and safety standards have greatly helped boost sales of our models," said Lu Tian, general manager of sales for BYD's Dynasty series.
XPeng Motors, one of China's leading smart electric vehicle companies, based in Guangzhou, Guangdong's capital, sold 12,922 cars in January, a year-on-year increase of 115 percent, the company said.
Expectations of robust, continuous growth have led to an expansion of production capacities by local NEV makers.
XPeng upgraded the technology at its production center in Zhaoqing, Guangdong, in late January and early February. The company expects to accelerate its production and shorten delivery times for customers.
Guangdong's production of NEVs amounted to 535,000 units in 2021, accounting for 15.1 percent of the country's total NEV output.
GAC Aion, the NEV arm of GAC Group, based in Guangzhou, has started construction of a second plant to meet growing demand, said Gu Huinan, general manager of GAC Aion. The second factory, with a capacity of 200,000 vehicles per year, is set to be finished by the end of this year or in early 2023.
GAC Group sold 19,121 NEVs in January, a year-on-year surge of 115.21 percent, while its production increased by 96.08 percent year-on-year to 17,294 units in the same month, the company reported.
"More people have chosen to buy new energy vehicles as the automobile industry has been quickly shifting toward electrification," Gu said.
GAC Aion will unveil a greater variety of NEVs in the coming years to meet the growing demand for domestically made models, Gu said, adding that the new models will not be only about shape and design but, most importantly, about technological innovation.
The company recently launched its LX Plus SUV line. The Aion LX Plus Thousand Miles Edition has a 144-kilowatt-hour battery pack with a range of over 1,000 kilometers per charge. The fastest of the LX Plus line, with a two-speed gearbox and a dual motor, can hit 100 kilometers per hour in 2.9 seconds, the company said.
Construction of an NEV industrial park has started in Guangzhou's Panyu district, with a total planned investment of 45 billion yuan ($7.07 billion), said GAC Group.
The park will have an annual production capacity of 600,000 NEVs, helping generate an output value of 170 billion yuan, according to the company.
Sales of NEVs totaled 431,000 units in the Chinese market in January, a year-on-year increase of 140 percent, said the China Association of Automobile Manufacturers.
The market penetration rate of NEVs also reached 17 percent in January, according to the association.