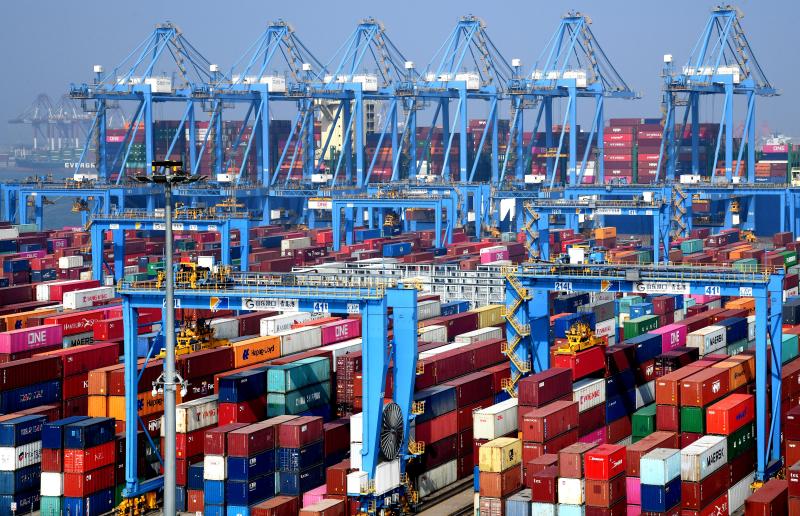 China's total imports and exports expanded 7.9% year on year to 12.58 trillion yuan in the first four months of 2022, official data showed Monday.
In U.S. dollar terms, total foreign trade came in at $1.98 trillion in the period, up 10.1% year on year, according to the General Administration of Customs.
Exports grew 10.3% year on year to 6.97 trillion yuan, while imports rose 5% to 5.61 trillion yuan in the January-April period, leading to a trade surplus of 1.36 trillion yuan, the data showed.
China's trade with its top three trading partners -- the Association of Southeast Asian Nations, the European Union and the United States -- maintained growth momentum.
During the period, the growth rates of China's trade value with these three trading partners stood at 7.2%, 6.8% and 8.7%, respectively, customs data showed.
Private enterprises saw a fast growth rate as imports and exports increased by 11% to 6.1 trillion yuan in the first four months, accounting for 48.5% of the country's total.
The imports and exports of foreign-invested firms and that of state-owned enterprises rose 2.2% and 14.1%, respectively, in the period.
Exports of mechanical and electrical products expanded by 6.7% to account for 57.9% of the total, while exports of labor-intensive products increased 9.2% in the first four months, GAC data showed.
In April alone, the country's foreign trade volume edged up 0.1% year on year to 3.16 trillion yuan, with the exports up 1.9% year on year while imports dropping by 2% from a year ago.