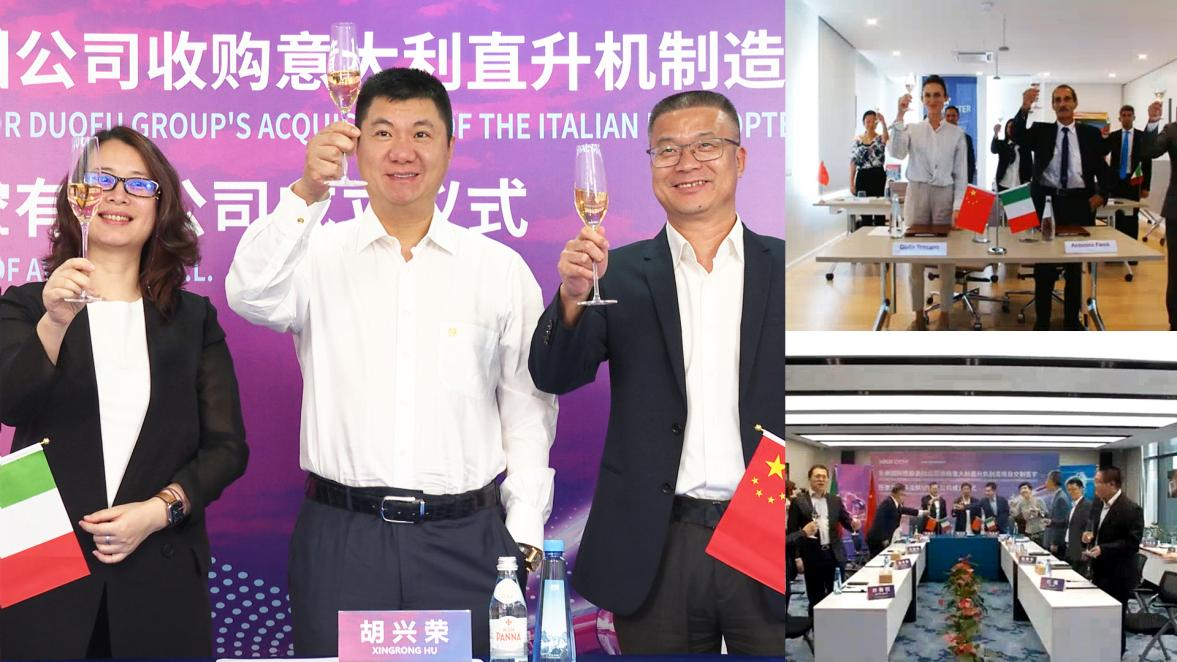 Duofu International Holding Group Co., Ltd. (hereinafter referred to as Duofu Group) acquired the Italian company Fama Helicopters, with the transfer and signing ceremony held online in China's Beijing and Hangzhou and Italy's Milan on June 28.
Chairman of Duofu Group Hu Xingrong and Fama's Legal Representative Antonino Fama attended the ceremony.
This acquisition involved the whole-chain purchase of departments relating to research and development, production, sale, and intellectual property rights, making it the first of its kind among domestic private general aviation enterprises.
The Special Plan for General Aviation Development during the 14th Five-Year Plan Period pointed out that diverse and emerging consumer needs should be met so as to promote the development of general aviation. In the field of general aviation, helicopters are of great significance. The Aviation Industry Development Research Center of China predicted that, by 2027, China would have more than 3,500 civil helicopters in total, and the market capacity of helicopter production and sales alone would reach $14.4 billion.
As a leading private group in China, Duofu Group has expanded to emerging industries and established Wenzhou Duofu Aviation Industry Group (hereinafter referred to as Duofu Aviation), which is committed to the development of the whole-industrial general aviation chain. That includes industrial strategy research, investment and financing, and mergers and acquisitions, as well as production and development of helicopters, electric vertical takeoff and landing (eVTOL), and engines.
Fama Helicopters is an advanced light helicopter manufacturer in Italy. The company's key portfolio is its self-developed Kiss series, including light single-engine and twin-engine, multi-purpose helicopters as well as turboshaft engines.
Liao Yunwu, vice chairman of Duofu Group and head of Duofu Aviation, noted that Fama's advanced technologies could meet the strategic requirements of Duofu Group. Duofu Aviation expects to greatly reduce the costs and prices of helicopters by taking advantage of advanced technologies and lower manufacturing costs in Wenzhou, Liao added.
Through the acquisition, Duofu Group can help narrow the gap between China's general aviation industry and the advanced capacities of developers abroad, which will facilitate economic development and international dialogue.
Following the acquisition, Duofo Group will also set up European helicopter and engine design and R&D centers and develop more advanced turboshaft engines, electric helicopters, twin-engine helicopters with four to five seats, eVTOL aircraft, drones, and other products based on the original product line. In addition, they'll continue to expand the production capacity of the existing helicopters.
Duofu Aviation will also establish a domestic research and development center and complete production lines for helicopters and engines. It will invest five billion yuan to build a complete aviation industrial chain consisting of R&D, manufacturing, sales, and operations. This will encourage the formation of other major sectors, including aircraft leasing and management as well as aviation insurance, training bases, clubs, logistics, and high-tech innovation. Finally, it will help local governments upgrade the structure of emerging industries and create local jobs.